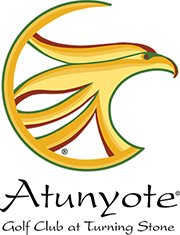 Golf Course Review by: Billy Satterfield
The Takeaway: Clearly the king of the three courses at Turning Stone, Atunyote boasts private club level conditioning and facilities. While the relatively flat ground makes it difficult to create a highly engaging design, the course features one solid hole after another devoid of any gimmicks and results in a quality test. Atunyote is the kind of course you'd happily play time and time again which helps it be one of New York's best public tracks. Grade B+
Quick Facts
Designer: Tom Fazio in 2004
Cost: $200.00 - $225.00 Click for current rates
Phone Number: (877) 748-4653
Course Website: Official Website - Visit Atunyote Golf Club at Turning Stone's official website by clicking on the link provided.
Directions: Get here! - 4774 State Route 31, Vernon, NY
Photos: See additional photos of Atunyote Golf Club at Turning Stone
Accolades: Ranked 17th in New York on Golf Course Gurus' Best in State rankings.
What to Expect: Atunyote (pronounced "uh-DUNE-yo") is the most heralded layout at Turning Stone though it is located about five miles off site from the resort. The former PGA tour stop (2007-2010) produced notable winners Matt Kuchar and long baller Dustin Johnson and was also the host of the PGA Professionals Championship in 2006 and 2016. The course is characterized with generous fairways, white sand bunkers, and pristine conditioning. Much more forgiving than the Kaluhyat course, the parkland layout at Atunyote will allow you to occasionally spray a shot and still have a chance to salvage a par although there are still plenty of bunkers and the occasional water hazard that will cost you for being sporadic. The course is relatively flat and thus an easy walk for players that would elect to do that while some waterfalls and wide variety of trees adds to the visuals. The most expensive of the Turning Stone courses, a visit to Atunyote feels more like a trip to a private club with a grand entrance, complimentary access to lockers and the practice facility, and great service.
By the Numbers
Tees
Par
Yardage
Rating
Slope
Black
72
7013
74.2
140
Blue
72
6520
71.5
131
White
72
6170
69.9
128
Gold
72
5605
67.2
125
Red (Women)
72
4813
72.0
129
Individual Hole Analysis
Signature Hole:

Best Par 3:

Best Par 4:

Best Par 5:

Birdie Time:

Bogey Beware: