El Conquistador Resort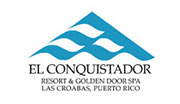 Golf Course Review by: Billy Satterfield
The Takeaway: The course at El Conquistador resort is a lot of fun to play due to the numerous elevation changes and excellent design variety. While courses closer to San Juan seem to get more attention, this Arthur Hills track is worth driving out to play and then enjoying the beautiful beaches located between Laquillo and Fajardo. Grade B
Quick Facts
Designer: Arthur Hills in 1993
Cost: $140.00 - $210.00 (includes cart and range) Click for current rates
Course Website: El Conquistador's official website Phone Number: (787) 863-6784
Directions: Get here! - 1000 El Conquistador Avenue, Fajardo, PR 00738
Signature Hole: 1st - 395 Yard Par 4 - It may not seem like it just looking at the scorecard, but this scenic par four can be driveable for long ballers. The tee box is located at the highest point on the property and affords expansive views across Puerto Rico's lush eastern side of the island. The hole doglegs right out of view, but bold players with a helping wind can cut the corner and ride the downslope of the fairway and finish on or near the green. The impressive views and exhilarating tee shot make the opening hole at El Conquistador an exciting way to start your round.
Photos: See additional photos of El Conquistador
Accolades: Ranked 2nd in Puerto Rico by Golf Course Gurus.
What to Expect: This Arthur Hills designed course is found beyond the gates of the upscale El Conquistador resort located at the northeast corner of Puerto Rico. While there are no holes on the ocean, the property features extraordinary changes in elevation (200 feet) and thus affords views of the Caribbean's blue waters from many of the lofty tees and even the driving range. From the back tees the course is plenty challenging, particularly given how tight some of the fairways can play with the extra hangtime your drives experience from the elevated tees. The conditioning of the bermuda grass is solid but not exceptional which is relatively typical of courses in tropical locations. The wind that commonly rolls off the ocean and through Puerto Rico is a bigger factor at El Conquistador given the elevation changes compared to the flatter courses that have more protection from the trees. The course would be very difficult to walk considering the up and down nature of the routing coupled with some lengthy transitions from green to tee, however there are several exhilarating shots to be had throughout the round. The design variety and winds can produce opportunities to drive the green on a couple of par fours and reach par fives in two which can result in some great scoring opportunities.
By the Numbers:

| Tees | Par | Yardage | Rating | Slope |
| --- | --- | --- | --- | --- |
| Black | 72 | 6746 | 74.5 | 141 |
| Gold | 72 | 6378 | 72.6 | 140 |
| Silver | 72 | 5819 | 70.1 | 135 |
| Jade (Women) | 72 | 4939 | 70.8 | 126 |

Individual Hole Analysis
Best Par 3: 9th - 188 Yards - I love a slightly uphill par three and Arthur Hill comes through with a solid one here at the 9th. The home hole on the front nine plays to a green that is protected by a pond on the left and a pair of bunkers short right. Err on the side of going long where there is no trouble and a small backstop to keep your ball on or near the green.
Best Par 4: 13th - 339 Yards -
Best Par 5: 15th - 540 Yards -
Birdie Time: 7th - 316 Yard Par 4 -
Bogey Beware: 5th - 431 Yard Par 4 -