Gold Mountain Golf Club (Olympic)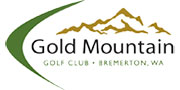 Golf Course Review by: Billy Satterfield
Quick Facts
Designer: John Harbottle in 1996
Cost: $25.00 - $65.00 ($16 for an optional cart) Click for current rates
Phone Number: (360) 415-5432
Course Website: Official Website - Visit Gold Mountain's official website by clicking on the link provided.
Directions: Get here! - 7263 West Belfair Valley Road, Bremerton, WA 98312
Photos: See additional photos of Gold Mountain (Olympic)
Accolades: Ranked 4th and 6th in Washington respectively on Golf Magazine's and Golfweek's 2013 Best Public Courses list. Host of the 2006 U.S. Amateur Public Links and annual host of the University of Washington Husky Invitational.
Signature Hole: 16th - 188 Yard Par 3
What to Expect: The Olympic course at Bremertonís Gold Mountain complex quickly rose to prominence on the Washington golfing scene after it opened in 1996. The John Harbottle design features towering evergreens, a handful of water hazards, and significant elevation changes. Driving corridors are generous for a course cut out of the thick Pacific Northwest forest so the real challenge lies in sticking the greens that are more difficult than the sister Cascade course. The entrance into the course is the most inspiring drives into a muni course Iíve ever experienced. Your car winds up a road that is darkened by overgrown trees dressed in thick moss that helps you forget about the hectic life found outside Gold Mountain and clears your mind in preparation of a great day of golf. The final four holes are fantastic with water coming into play and big swings in your score being possible. Olympicís 18th hole is a unique finishing hole in the golfing world since it is a drivable par four; resulting in an excellent way to finish a match play contest. The flatter Cascade course is more walkable and easier to score on than the Olympic track, thus making Harbottleís design the host course of choice for tournament play. Gold Mountain is comfortably the best golf value in Washington and may only be trumped by Chambers Bay as the best municipal course in the state.
By the Numbers:

| Tees | Par | Yardage | Rating | Slope |
| --- | --- | --- | --- | --- |
| Pro (Gold) | 72 | 7168 | 74.1 | 135 |
| Tourney (Blue) | 72 | 6505 | 71.3 | 129 |
| Player (White) | 72 | 6034 | 69.1 | 124 |
| Scoring (Yellow) | 72 | 5607 | 67.2 | 120 |
| Forward (Red-Women) | 72 | 5220 | 70.2 | 122 |

Individual Hole Analysis
Best Par 3: 12th - 251 Yards
Best Par 4: 7th - 462 Yards
Best Par 5: 9th - 621 Yards
Birdie Time: 18th - 325 Yard Par 4
Bogey Beware: 17th - 467 Yard Par 4
Final Cut: Grade B
Flyover Tour: