Poppy Hills Golf Course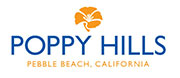 Golf Course Review by: Billy Satterfield
The Takeaway: Poppy Hills is vastly improved since the renovation with firm and fast conditions, no rough, and great putting contours on bentgrass greens. The course feels more natural than before and while it will never compete with Pebble Beach's incredible coastal setting, Poppy Hills' successful renovation makes it pleasure to play and a great value for NCGA members. Grade B-
Quick Facts
Designer: Robert Trent Jones Jr. in 1986
Cost: $75 for NCGA members Mon-Thu and $100 Fri-Sun, $102/$130 for guests accompanying a NCGA member, and $225 for the general public. Carts are $25/player (cart path only) Click for current rates
Phone Number: (831) 622-8329
Course Website: Official Website - Visit Poppy Hills Golf Course's official website by clicking on the link provided.
Directions: Get here! - 3200 Lopez Road, Pebble Beach, CA 93953
Photos: See additional photos of Poppy Hills Golf Course
Accolades: Part of the three course rotation at the AT&T Pro-Am on the PGA Tour from 1991 to 2009.
What to Expect: Poppy Hills represents the first course owned and operated by an amateur golf association (Northern California Golf Association) and utilizes the course as its headquarters. The course underwent an extensive renovation that improved both the layout and conditions. Formerly nicknamed "Sloppy Poppy" by some of its critics, there is nothing sloppy about the new and improved Poppy Hills that plays firm and fast from tee to green thanks to a new drainage system, a new 5 ½" sandy base, and a more efficient sprinkler system. The bunkering is improved and lays more naturally on the land which is a welcome sight. The artificial mounds throughout the course have been eliminated which improves the look and drainage. Every green on the course was redone which included softening some contours and improving the areas leading up to the putting surface so that they would be receptive in the firm and fast conditions. In fact, attacking some pin positions is best done by landing off the green and then using the surrounding undulations to feed the ball towards the hole. An improvement that everyone will enjoy is the transformation to bentgrass greens which gives Poppy Hills perhaps the best putting surfaces in the famed Monterey area. The elimination of the doglegs and the rough provide a much more player friendly, and frankly more fun, layout then Poppy Hills experienced in the past. The rough around the trees that frame the holes has been replaced with pine straw which is much easier to play from and find a ball in. The nines have also been reversed from the original layout and some glimpses of the ocean are more readily available today. Members of the NCGA pay one-third of what the general public pays and even being accompanied by a NCGA member will cut your green fee in half. Members of the NCGA would be fools to not play the improved Poppy with rates under $100. The old Poppy Hills was forgettable, artificial, and a punchline but now stands as the best value on 17-mile drive.
Signature Hole: 2nd Hole at Poppy Hills Golf Course - 174/148 Yard Par 3
By the Numbers:

| Tees | Par | Yardage | Rating | Slope |
| --- | --- | --- | --- | --- |
| Jones | 71 | 7002 | 74.4 | 144 |
| 4 Poppy | 71 | 6672 | 73.0 | 140 |
| 3 Poppy | 71 | 6299 | 71.2 | 135 |
| 2 Poppy | 71 | 5799 | 68.6 | 131 |
| 1 Poppy | 71 | 5215 | 66.0 | 125 |
| 1 Poppy (Women) | 71 | 5215 | 70.1 | 125 |

Individual Hole Analysis
Best Par 3: 15th Hole at Poppy Hills Golf Course - 210 Yards
Best Par 4: 5th Hole at Poppy Hills Golf Course - 426 Yards
Best Par 5: 10th Hole at Poppy Hills Golf Course - 511 Yards
Birdie Time: 18th Hole at Poppy Hills Golf Course - 500 Yard Par 5
Bogey Beware: 16th Hole at Poppy Hills Golf Course - 439 Yard Par 4