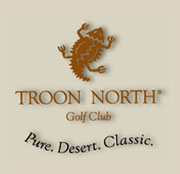 Golf Course Review by: Bill Satterfield
The Takeaway: Grade B
Quick Facts
Designer: Tom Weiskopf and Jay Morrish in 1990 (Monument) and Tom Weiskopf in 1996 (Pinnacle); Tom Weiskopf rerouting in 2007
Cost: $75.00 - $240.00 (includes cart) Click for current rates
Phone Number: (480) 585-5300
Course Website: Official Website - Visit Troon North (Monument)'s official website by clicking on the link provided.
Photos: See additional photos of Troon North (Monument)
Accolades: Pinnacle course ranked 1st (12th by Golfweek) and Monument course ranked 4th (5th by Golfweek) best public access courses in Arizona by Golf Magazine in 2012. Pinnacle course ranked 23rd in Golf Digest's 2013-14 Best in State rankings.
What to Expect: The Monument course at Troon North gets its name from the large monument boulder found in the middle of the 3rd fairway. Troon North hit the scene with a bang as it made its way into the Top 100 public courses in America and was attracting patrons from across the country. Like many Arizona courses, the Monument course is a target style track that requires precision unless you want to give your cleats a beating in the desert. In addition to the man-made hazards, a natural wash runs through the property and delivers extra excitement and challenge. The 2007 rerouting of the Troon North courses left the Monument course with two driveable par 4s rather than just one like the original layout offered. Since the rerouting work that Tom Weiskopf did in 2007, the Pinnacle course at Troon North has risen to new heights. Large natural desert foliage and cactus densely surround the course while large boulders are all scattered throughout. Since the rerouting, the Pinnacle course doesn't feature a driveable par four that Weiskopf has became famous for in his layouts. Fortunately for the Pinnacle course though, it ended up with the best overall collection of holes and is now regarded by many publications as the best public course in Arizona.
By the Numbers
Tees (Monument)
Par
Yardage
Rating
Slope
Black
72
7070
72.9
147
Gold
72
6716
71.6
137
Silver
72
6236
69.2
130
Copper
72
5874
68.4
126
Jade (Women)
72
5099
68.5
121Tees (Pinnacle)
Par
Yardage
Rating
Slope
Black
72
7025
73.0
149
Gold
72
6645
71.7
137
Silver
72
6268
69.4
130
Copper
72
5779
68.0
125
Jade (Women)
72
4883
67.7
115
Individual Hole Analysis
Signature Hole: Monument 3rd Hole – 564 Yard Par 5
Best Par 3: Pinnacle 16th Hole – 140 Yards
Best Par 4: Monument 6th Hole – 306 Yards
Best Par 5: Monument 3rd Hole – 564 Yards
Birdie Time: Pinnacle 16th Hole – 140 Yard Par 3
Bogey Beware: Pinnacle 14th Hole – 609 Yard Par 5