Golfin' on the Grand Strand
Article by: David Theoret
I just came back from Myrtle Beach; played 9 courses over a 12-day period which doesn't seem like a lot but I must say it wore my out. Gone are the days of 36 holes a day; they are now replaced with 18 holes, Aleve and Ben Gay. Whoever said you don't need to be in shape to play golf has never seen my game!
Living in Florida, it was nice to see things other than palm trees, sand and water, although Myrtle Beach does have its fair share of the latter two. It was also nice to see dirt when you take a divot and the occasional earthworm on those extra-chunky swings. Some things remain the same such as elevated greens and massive waste bunkers. Many greens, especially on the Davis Love III Course at Barefoot Resort are a lot smaller than you typically find in the southeast; consequently, it takes accurate approach shots of you are going to score well here. Being a Lowcountry guy, DL 3 does a great job of using what the land gives him and incorporating it into his layout. In fact, many of the green complexes are reminiscent of Pinehurst #2. There's also the replicated ruins of an old antebellum plantation between the 3rd and 7th holes.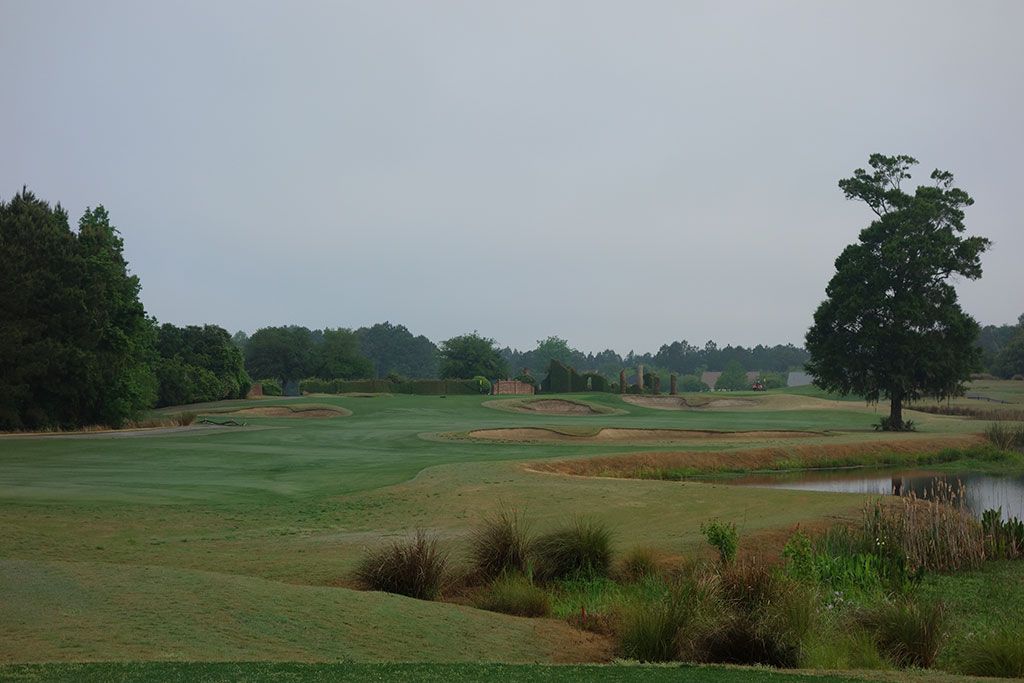 Another great course at the Barefoot Resort is the Fazio Course. Fazio has taken a piece of land that boasts significant natural and manmade elevation changes and developed it into a golf course that will challenge even the boldest of players. About 15 holes involve the water which leads to several risk/reward opportunities. You can score well out here or put up an embarrassing number.
True Blue Plantation is a must play on any golfer's visit to the area. True Blue also has a lot of Lowcountry flavor to it: salt marshes, wetlands, live oaks and towering pine trees. Greens are often well elevated and surrounded by waste bunkers. In fact, all of the bunkers out here are waste bunkers – saves on buying rakes! The clubhouse balcony overlooks the 18th green; it's a place where golfers congregate after the round and watch fellow golfers play 18. It may be as close as you ever get to playing in front of a gallery!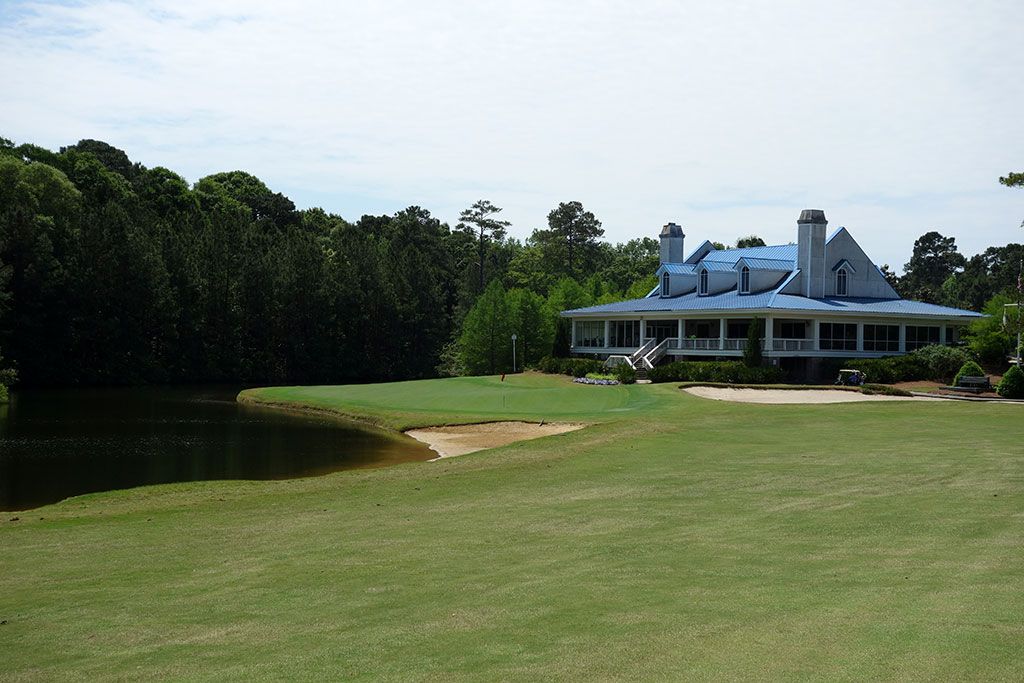 The King's North Course at Myrtle Beach National is home to what I consider the Grand Strand's most interesting hole. Number 6 is a 525-yard par 5 aptly dubbed The Gambler and is one of the more interesting holes I've ever played. Picture this: an island fairway! Hit your tee shot on the island fairway and you've increased your chances of par or better tenfold and made the hole over 100 yards shorter. It takes two well-executed shots to do so, but it's well worth the try.
One of the best conditioned courses in Myrtle Beach is Arrowhead Country Club; their greens are amazing. Arrowhead offers 27-holes of golf, with several holes set along the Intracoastal Waterway. It's the epitome of target golf. A large party boat going by can provide an instant gallery. Just be ready for some of the things they might yell and when they might yell them (i.e. during a backswing)!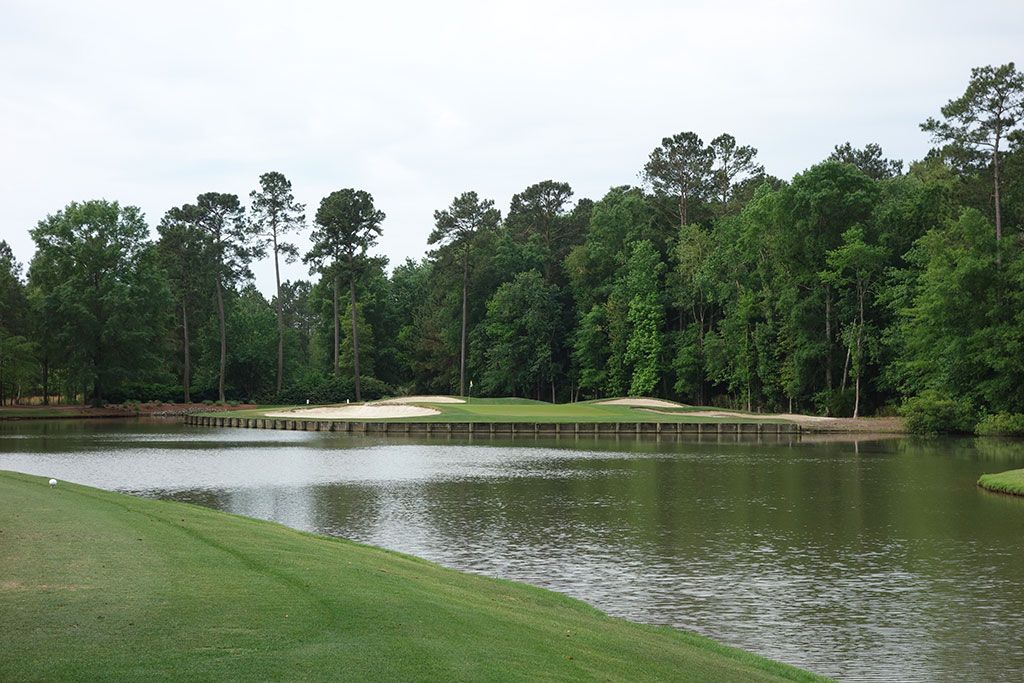 Burning Ridge underwent a massive renovation in 2006 because it was too hard. These days, it's anything but a pushover. What I will remember about the course are the greens. Not only are they very puttable and roll true, they come in a variety of shapes and sizes. Some are long and narrow others are wide and shallow. They all place a premium on club selection.
Shaftesbury Glen and The Hackler Course at Coastal Carolina University are great courses for beginners or golfers looking to have a good time on player-friendly courses. Shaftesbury has no significant forced carries on any hole and with the exception of a couple of holes, everything is pretty much straight ahead. The Hackler Course is run by students in the university's golf management program and maintained by students in a golf maintenance program at a sister institution. There's not a lot of trouble around the greens and the course puts an emphasis on the short game.
These are just some of the highlights from Myrtle Beach. Stay tuned for more.