What is the best course you've ever played?
2005 was the first year that featured a golf trip boasting several Top 100 courses. That summer I had the opportunity to tee it up on a perfect day at Cypress Point which was the most spectacular golf experience I had ever had! Since that time it has owned the distinction of being the best course I've ever played. However, in the fall of 2010 I stepped foot onto Pine Valley for what was deemed the best golf experieve of my life. I didn't think either of those days could be trumped but a visit to Old Head Golf Links at the southern tip of Ireland changed my mind; a spectacular experience in every way.
How often do you update the website?
After I go on a trip somewhere, I take the following weeks uploading photos, writing reviews, updating rankings, etc. I tend to have more time in the winter than the summer to do things, but the website sees updates year-round.
I'm a die-hard golfer and love to take golf trips. What is a typical golf trip like for the Gurus?
The Gurus often mock others golfers definition of a golf trip. We laugh when reading about "Ultimate Trips" and "Amazing Retreats" that consist of a three day trip with two rounds of golf, upscale accomodations, and expensive food. When the Gurus hit the road it is with one goal; get the highest quality and quantity of golf in as daylight allows. In 2009, the Gurus embarked on a trip that became legendary right off the bat; 18 courses (13 of which are on Golf Digest's Top 100, 4 others that were previously on the list), 9 days, 7300 miles (4800 by plane and 2500 in a rental car), walked 75 miles in our golf shoes, and more - all while Bill's wife was 8 1/2 months pregnant. If you can't handle that, you can't handle golf trippin' with the Gurus! Read about some of our other trips by visiting the
Blog section
.
Do you guys play in a lot of golf tournaments?
The Gurus don't compete in a ton of tournaments for a couple of reasons. First, it is tough to justify dropping cash to play the mediocre courses near our homes when you can spend that money on a sweet golf trip that will often include teeing it up at a Top 100 course. Second, there are enough handicap sandbaggers out there that it is pretty unmotivating to play in tournaments when you see a guy that is supposed to be a "15 handicap" post 75-71 and a "7 handicap" post 67-69. However we do like to play team events where handicaps aren't as big of a factor. The Gurus do however play in our own summer league that was developed as a result of not being thrilled with our local Men's Association setup.
Where is the best place you've ever eaten on a golf trip?
The Gurus LOVE to eat and after playing 36 holes there is nothing we look forward to more than pounding some good grub. But never have we received a better recommendation than the day we played at Coeur d'Alene Resort with a traveling preacher. As we made the turn onto the back nine the preacher gave this advice, "I travel the country playing golf courses and eating at steak houses. As amazing as this golf course is, you will tell twice as many people about your experience at Wolf Lodge then you will about this place if you go." Better than pristine conditioning, caddy service, and the floating green? He was on.
So on the Gurus way out of Coeur d'Alene heading to Kalispell we took the preacher up on his advice and stopped at Wolf Lodge steak house located right off of I-90 at the eastern end of Lake Coeur d'Alene. Our caddy instructed us to order The Rancher; a 24 oz. Porterhouse AND a 20 oz. Sirloin. After engulfing the salad, potato logs, and baked beans that come as teasers before the real meal starts, a most glorious sight arrived at the table as our cowboy hat wearing waitress handed each of us an order of The Rancher. Now, most people wonder how in the world one person could eat that much. Well you first would have had to see Billy at Tony Roma's during the all-u-can-eat ribs feast where he pounded 56 ribs. Beyond that though, those steaks were the softest, juiciest and most succulent pieces of meat we've ever encountered. It is now a staple stop when in Coeur d'Alene. If you are ever up in Northen Idaho, DON'T MISS IT!
How do you guys get on all of those amazing courses?
That is classified information we aren't at liberty to divulge.
Which Guru is the best golfer?
It really depends on what day you catch us and which course we are playing. Day in and day out, Rich lays claim to the title of the best golf course guru player with his ultra consistant play. A round in the 80s for Rich is as uncommon as snow in July. Billy is a solid single digit handicap with some of his most memorable rounds including a 76 from the tips at Shinnecock Hills, beating a college golfer at Monterey Penninsula Country Club (Shore), and near scratch golf at Circling Raven where an opening hole eagle kick started the round.
What is the best 36 hole day you've ever had?
When I'm out golf trippin' there is one goal; play as much golf as possible. As such, there are a ton of great 36 hole days we've had on the road. One of my first exposures to amazing golf was at Bandon when it was just Bandon Dunes and Pacific Dunes. The combination is still is as good as it gets, but here are some other stellar 36 hole days:
Fishers Island and Yale University
The Club at Black Rock and Coeur d'Alene Resort
National Golf Links and Sebonack
Castle Pines and Cherry Hills
Sanctuary and Ballyneal (Two COMPLETELY opposite design styles)
Oakmont and Laurel Valley
Shinnecock Hills and Maidstone
Pacific Dunes and Bandon Dunes
Oh we could go on and on, check out our Rankings/Lists section where we've posted a list of our best 36 hole experiences.
What is the best course you've played with less than a $30 green fee?
Not factoring in twilight rates, we gotta go with Spokane's municipal gem The Creek at Qualchan that charges $27/weekdays and $29/weekends. It is a beautiful course that features towering pines, meandering creek, and challenging elevation changes. In fact, Spokane is a
great
place to live for high quality, affordable golf. Finishing a close second place is Valley View in Layton, UT.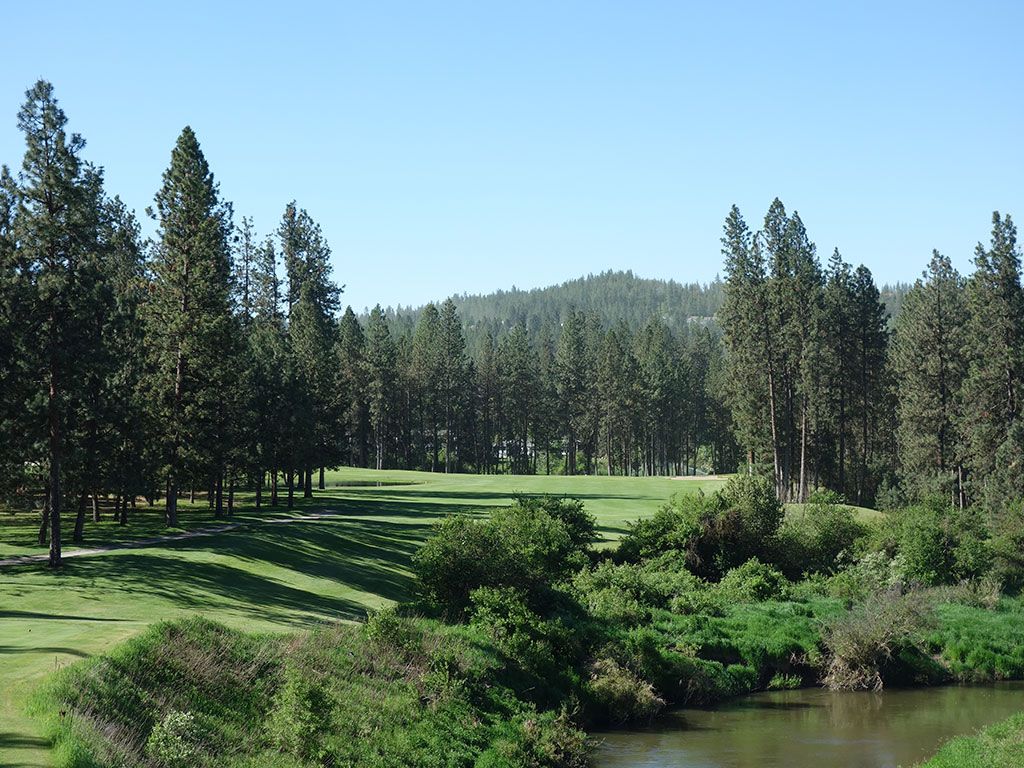 Is Pebble Beach worth the $495 green fee?
Yes
and
No; how is that for some help? After playing it in June of 2005, I walked off the 18th green with a feeling very few courses offer and felt Pebble was worth every dime. The unmatched history, the number of holes along the coastline, and the ability to relive the memory every year by watching the AT&T is something no other course can offer. That being said, I wouldn't suggest to my Dad (Steve) to go and drop the cash. True, he would be impressed by the stunning beauty; but my Dad is
very
money conscious and would struggle getting his mind off the money and focused on the round. Case in point; while my Dad was in Hawaii I paid for a package that gave him rounds at Princville, Poipu Bay, Kiele Lagoons, Mauna Kea, and Mauna Lani South. As much as he enjoyed the rounds, I think he enjoyed the bargain nine hole course he found on Kauai just as much because it was such a
deal
while hardly being able to get past the thought of what I must have paid for him to play Hawaii's best. In conclusion, the Pebble Beach experience is worth it at least once. Beyond that it depends on how die hard (and wealthy) you are.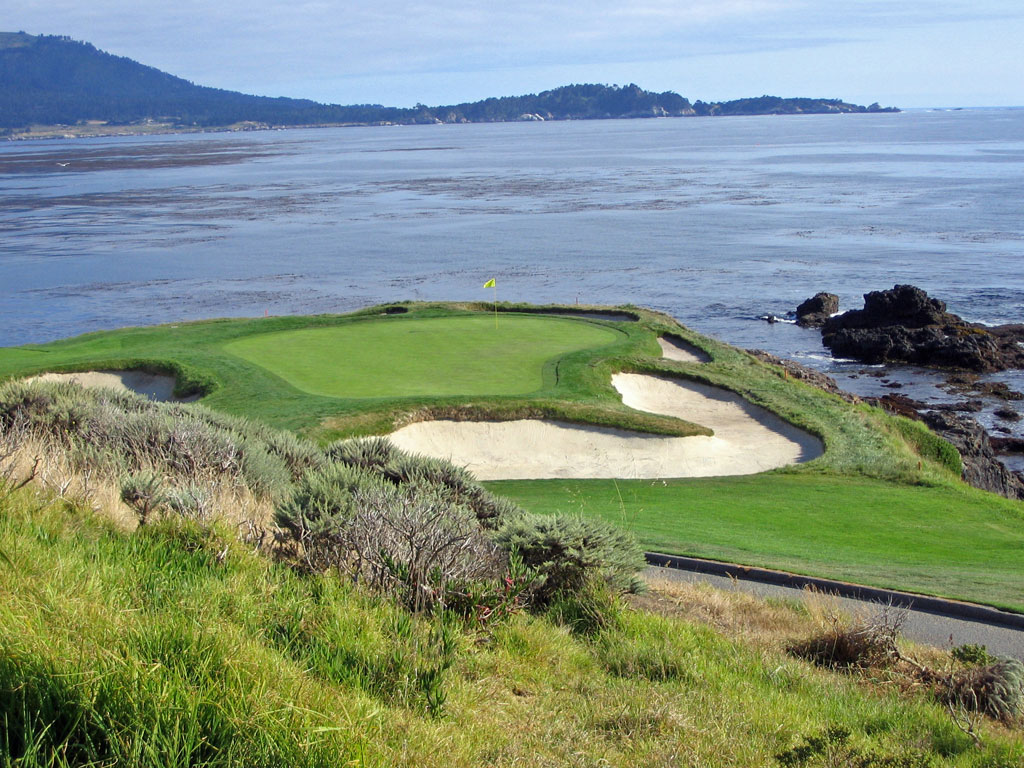 How many rounds of golf do you play a year?
I try to squeeze in about 100-125 rounds a year with 25-40 of them being at new courses. During the winter months the amount of golf gets pretty limited so Tiger Woods' video game has to suffice, but I try to throw in a mini-golf trip here and there.
Have you ever had a hole-in-one?
The summer of 2006 was a magical year for me when I managed to get an ace on July 3rd at Glenwild Golf Club in Park City, UT. The shot came from the 11th tee box to a hole that was 227 yards away with the 4-iron being the right club that day. 4 1/2 months later I managed to ace another hole; the 16th at the Oasis Golf Club (Canyons) in Mesquite, NV. Ace number three came July 14, 2012 at my home course when I carded a 1 on the signature 16th hole; RJay followed that up a few months later with his first hole in one on the same hole and pin location (front right). June 22, 2013 resulted in the 16th hole at Highland being generous once again as it yielded my fourth ace.
I'd like to hook up with you guys for a round of golf. Will you be in my area?
Check out our
Where are the Gurus?
section to see where our travels are bringing us next. If we are coming to your neck of the woods drop us an email and we'll try and get together.
I'd like to use/buy one of your pictures. What do you charge?
Just let me know which photos you are interested in along with the intended use of the photos (i.e. brochure, web site, size and score of run, etc.) and I'll quote you a price.
What equipment is in your bag?
For the past 10+ years I've been a die hard Mizuno guy. My book-end clubs are not Mizuno (an Odyssey 2-Ball blade putter and an 8.5* Titleist 910D3 driver) but the majority of my bag comes from the Japanese club maker. Currently I carry a 13.5* Mizuno MP-001 fairway wood, Mizuno MP-63 irons (3-PW), and recently swapped out some worn down Mizuno wedges for new Titleist Vokey SM4 wedges (52*, 56*, and 60*). Rich also plays Mizuno MP-63 irons while RJay carries MP-32 irons and MP wedges.