Redan Me!
Article by: Billy Satterfield
Golf magazines have made an increasing effort over the last handful of years to discuss course architecture more often and not just swing instruction. I was happy to see the February 2016 issue of Golf magazine had a feature on Redan golf holes. This is probably the most copied template hole there is and draws its inspiration from the 15th hole on the West Links at North Berwick in Scotland. I'll have to count sometime, but I'm sure I've played at least a dozen Redan holes in my travels and I'll include some pictures I've taken of various ones so that you can get a feel for what is entailed. Some will be traditional Redan holes and others are Reverse Redan holes where the same concept is built but mirrors the original. The attached Golf magazine article will give plenty of explanation about what a Redan hole is so I won't add anything to that and will instead focus on the two Redans you'll face at Bandon.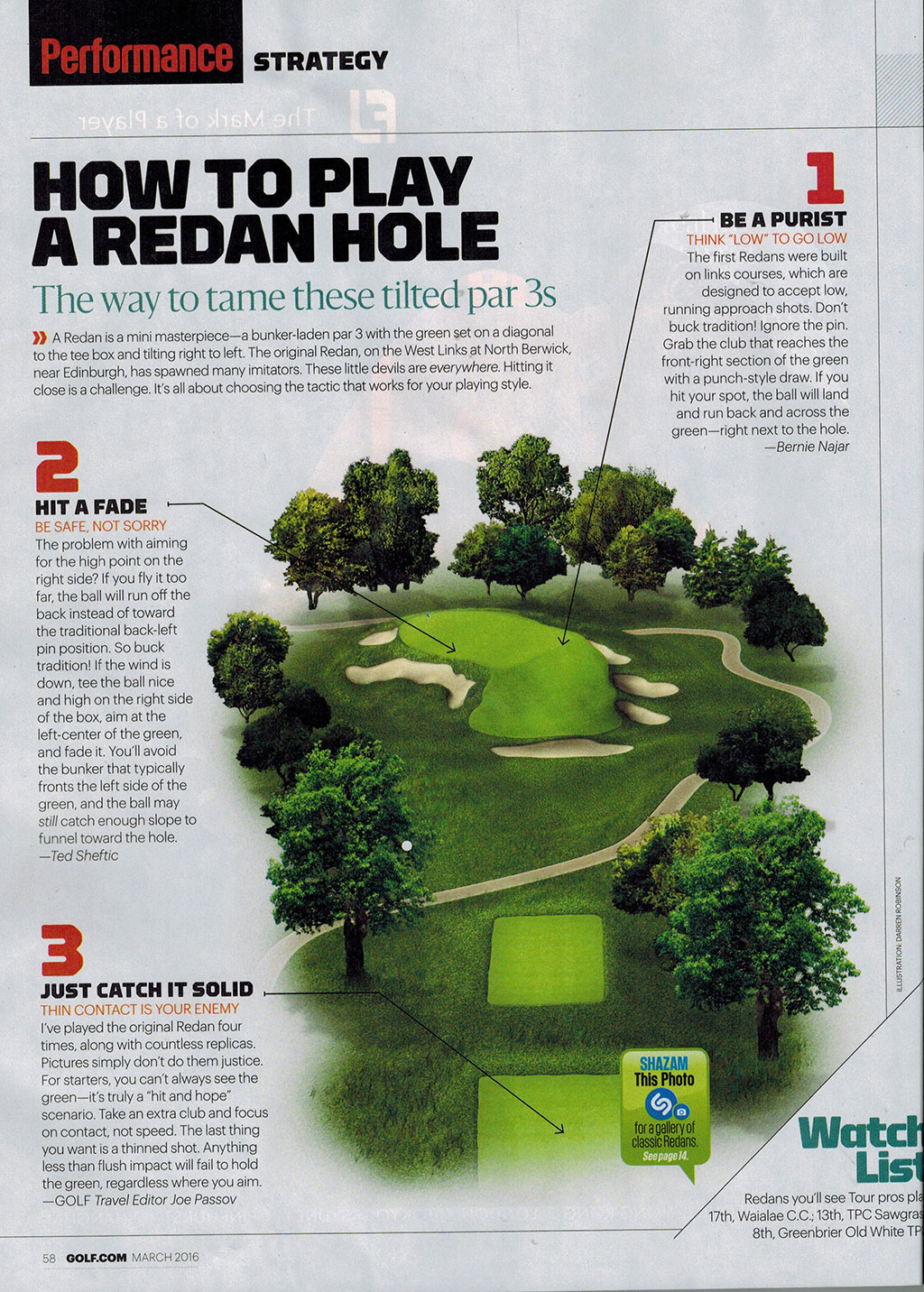 The first Redan to go in was the 17th at Pacific Dunes which tips out at 189 yards, but length isn't the difficult part with a Redan, it is placement. Anyone choosing to go pin seeking at a left pin is a fool . . . end of discussion. Now, you don't have to take my advice here and can simply fire at any pin placement just like you can choose to use your lob wedge around the greens at Bandon, and then each evening over dinner I will listen with great earnestness about how you managed to fire a smooth little 97 that day.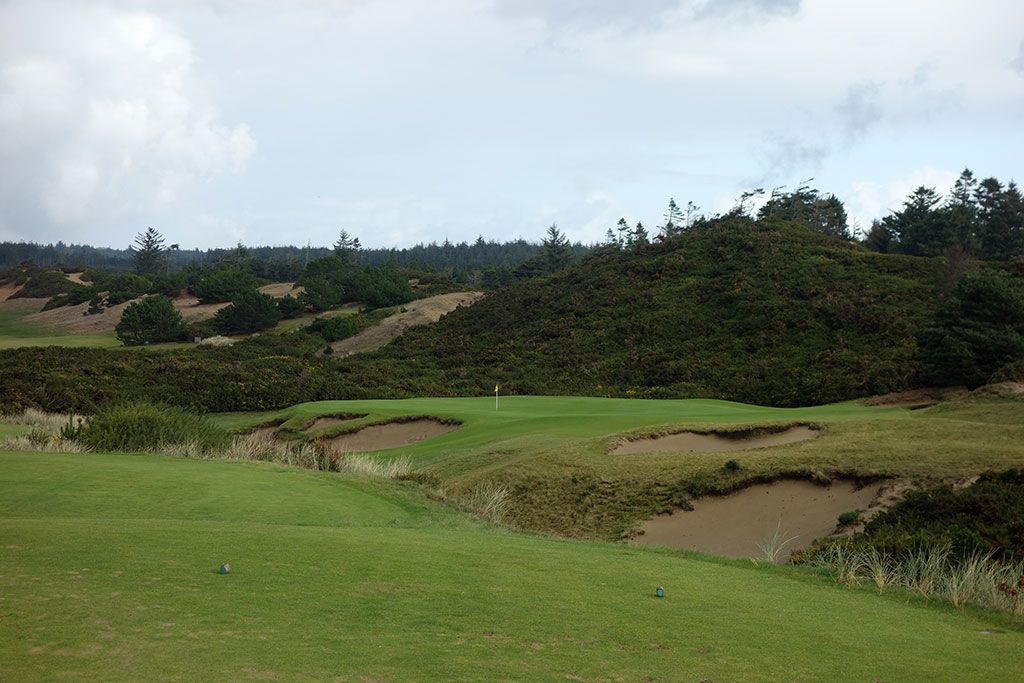 The next Redan, and frankly the better of the two from a green tilt standpoint, is the 12th hole at Old Macdonald. The pictures I've included aren't as sexy as Pacific Dunes, but don't let that influence you on how fun, and painful, this hole can be. Rather than listening to my take on this hole, I'll let course architect Tom Doak give you a personal tour.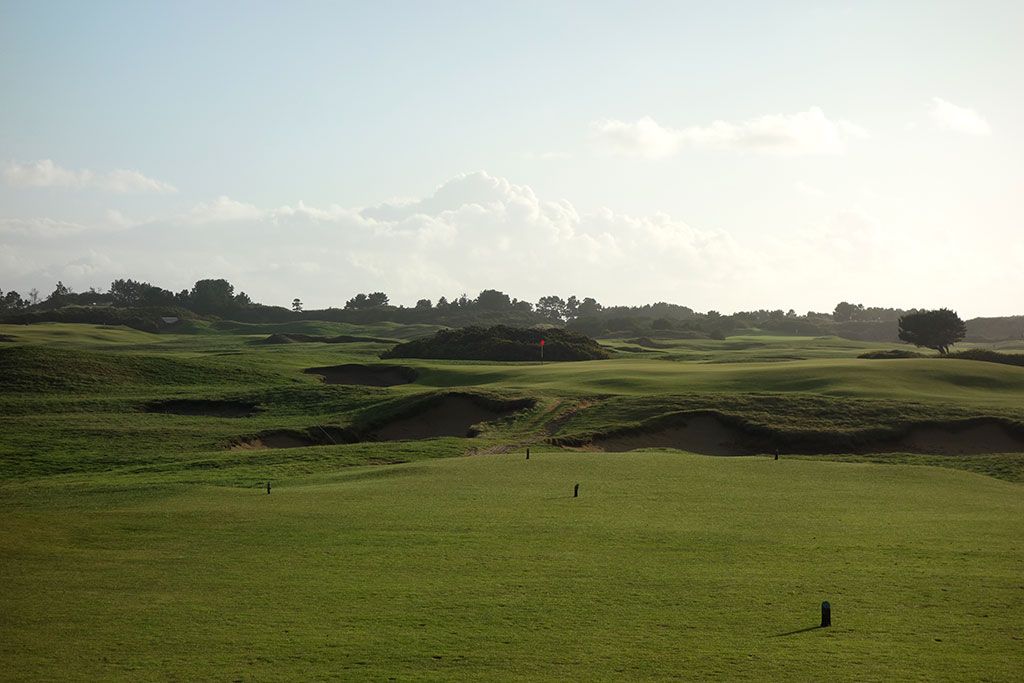 Tom also had this to say about Old Macdonald's 12th hole, "The most-imitated hole in the world is the par-3 15th at North Berwick, Scotland, known as the Redan, after a Crimean War fortress in Russia which was in the news when it was built. The plateau green runs away from a high shoulder at the right front to the back left, with a deep bunker guarding the left flank of the green. Our Redan is a bit different; the left bunker does not come across the front of the green as far as would be typical for the hole, but the bank of the green feeds short balls out to the bunker. Only a straight fade will work here."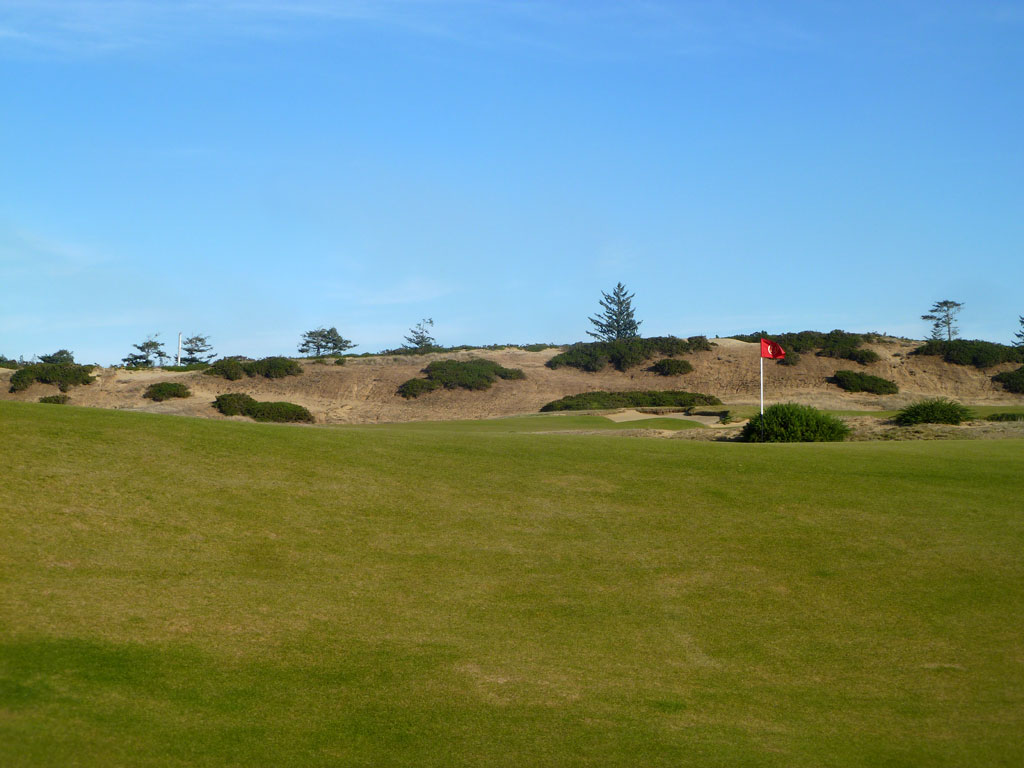 As Tom said, Redan is the most imitated hole in the world. Some of them are crown jewel examples and other may go unnoticed by the untrained eye; here are photos from various Redan par threes you may encounter: