Gene Bates Does it Again
Article by: Billy Satterfield
Success breeds success. It is a simple concept really and the Squaxin Island Indian Tribe is proving it again. Ten years ago the Coeur d'Alene Indian Tribe unveiled the Circling Raven Golf Club on reservation ground in Worley, ID. The Gene Bates designed routing has tallied numerous accolades as one of the finest public tracks in the country and made Northern Idaho a must-visit golfing destination. Following in the Coeur d'Alene Tribe's footsteps, Squaxin Island also commissioned Gene Bates to design a first class golf course and offered him a beautiful 320 acre canvas north of Olympia, WA to work with. With a couple hundred feet in elevation changes, towering pines trees, and a sizeable budget, Gene Bates gave Squaxin Island their own Mona Lisa to enjoy; Salish Cliffs Golf Club.
One of Salish Cliffs' most impressive holes is delivered right off the bat with the opening par five that features a stunning downhill tee shot to an immaculate fairway below. The following hole is a classic risk/reward driveable par four with a fescue covered hill on the left and old railroad tracks marking out of bounds on the right. The 3rd hole is one of the longest par 3s I've ever played; a whopping 291 yards from the tips! Granted, it plays downhill, but don't be surprised to see a lot of players pull off the driver cover for that one.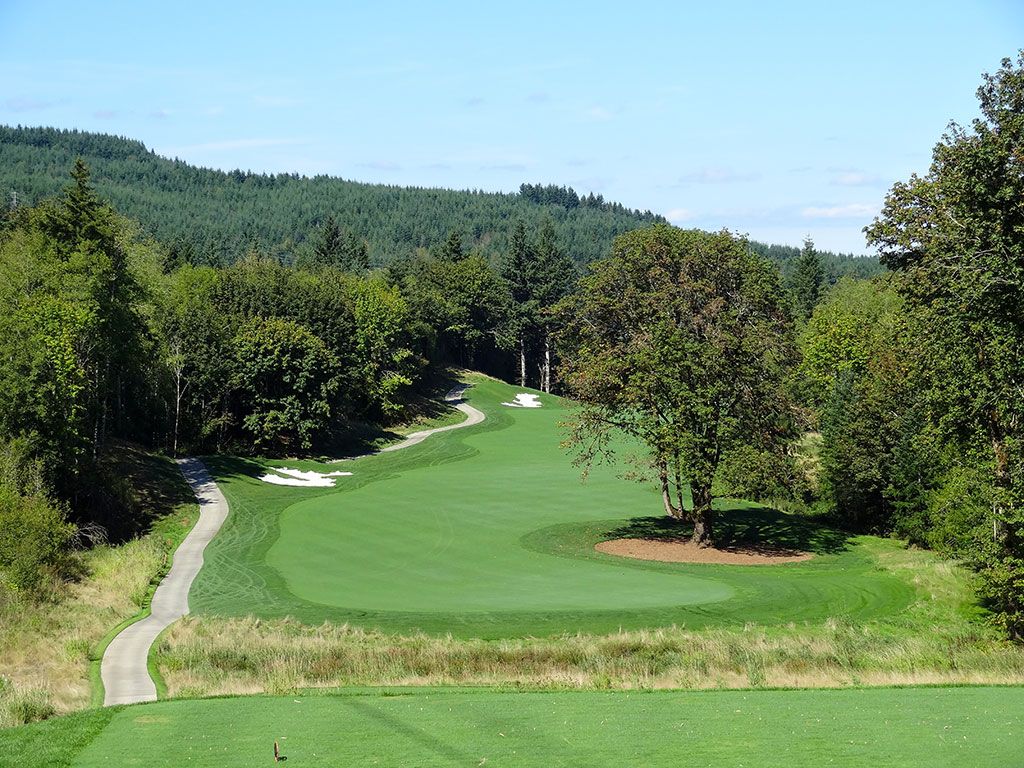 The signature hole 18th is a par five that features a tee shot through a cathedral of trees before opening up to a vast fairway. The 15,000 square foot double green features a flag on the right side for the 9th hole and a flag on the left for the 18th. A pond protects the putting surface and generates feelings of fear and excitement when trying to reach the green in two.
Salish Cliffs enjoys a combination of open feeling holes as well as holes carved through the trees. The height and thickness of the trees provide an isolated and intimate feeling throughout the round which adds to the overall enjoyment. The elevation changes found in the routing provide dramatic and intriguing shots while the bunkering is as attractive as it is challenging. Conditioning throughout the course is flat out superb with smooth, true rolling greens and well groomed fairways. In its short two year history Salish Cliffs has already begun to tally accolades as one of the finest public tracks in Washington; after my visit there I can see why.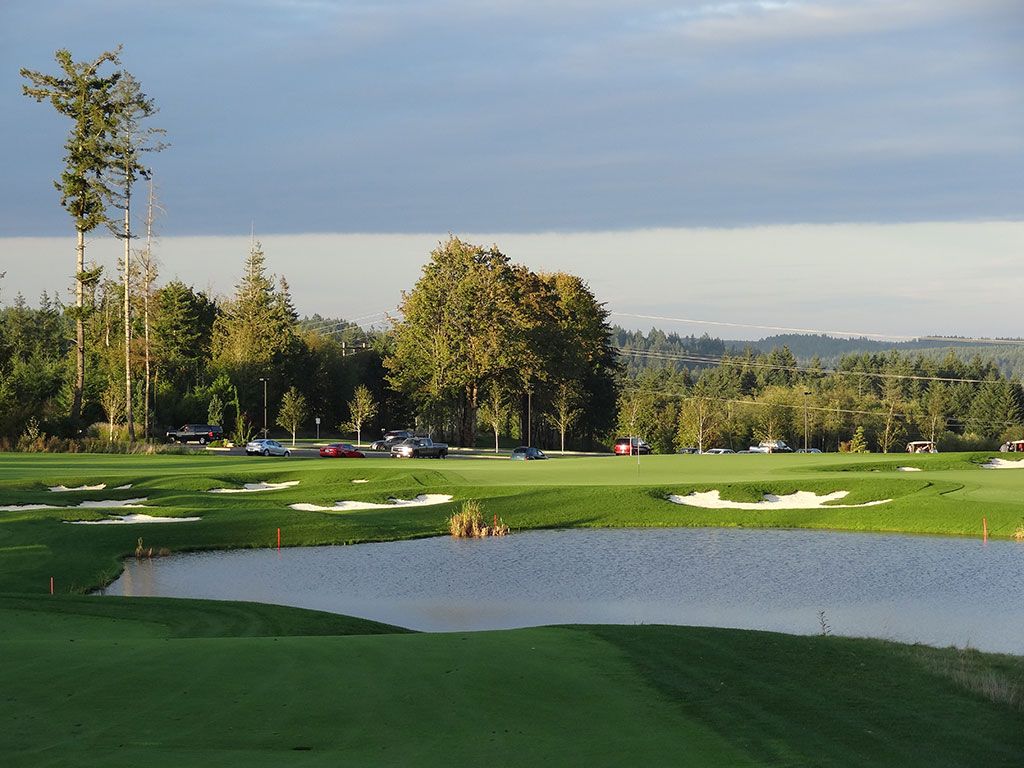 Like Circling Raven's ties to the Coeur d'Alene Casino Resort, Salish Cliffs is part of the neighboring Little Creek Casino Resort. The resort features an attractive 5-story building that showcases Pacific Northwest wood and boasts an impressive foyer supported by huge multi-story timbers. The resort features food and entertainment on the main floor and well appointed rooms on the ascending stories. The Creekside buffet offers a slew of dining selections that include a salad bar, fruit, hand carved prime rib and ham, roasted chicken, and seafood. While some seafood can be found on the buffet, for a true seafood lovers dining experience look no further than the Squaxin Island Seafood Bar where a wide selection of fresh water dwelling creatures are prepared right in front of you in an intimate setting. If you'd rather skip the "surf" and instead indulge in the "turf," then a hearty steak awaits at the Island Grille next door. Upstairs the rooms are clean, modern, and host comfortable beds that are sure to give you the rest you need after enjoying all of fun the area and resort have to offer.
When all is said and done, if you have played Circling Raven and enjoyed it, you will enjoy Salish Cliffs. If you haven't played Circling Raven, repent now and go visit both of these courses as soon as possible. With a nice variety of dining options, in room refrigerator and flat screen TV, Pool/Jacuzzi setup, and full service RV Parking, the Little Creek Casino Resort teams up with Salish Cliffs Golf Course to offer an experience you'll want to come back and enjoy again and again.
To book your visit to Salish Cliffs and Little Creek Casino Resort, visit www.salish-cliffs.com where stay-and-play packages are offered starting at just $99.