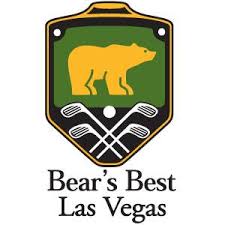 Golf Course Review by: Billy Satterfield
Rankings: 17th

The Takeaway: Bear's Best Las Vegas is one of the better public golf course offerings in Sin City and delivers exceptional service. I wish Jack would have selected more memorable holes to replicate here than he did, but you also can't totally replicate the terrain of his best designs. Regardless, the hole designs offer a nice mix with the black sand holes from Old Works in Anaconda, MT being some of the most memorable. Grade C+
Quick Facts
Designer: Jack Nicklaus in 2002
Cost: $49.00 - $265.00 Click for current rates
Phone Number: (702) 804-8500
Course Website: Official Website - Visit Bear's Best Las Vegas's official website by clicking on the link provided.
Directions: Get here! - 11111 W Flamingo Rd, Las Vegas, Nevada 89135 – UNITED STATES
Photos: See additional photos of Bear's Best Las Vegas
What to Expect: Located in Summerlin 20 minutes west of the downtown strip in Las Vegas, Bear's Best is a Jack Nicklaus design carved through a high end residential development that features plenty of elevation changes and views. The hole designs are replicas of holes from other courses Jack has designed across the world with many of them coming from other desert climates such as Arizona, Palm Springs, and Cabo Mexico. Ultimately though, like most replica courses, Bear's Best never really feels like you are anywhere other than Las Vegas. The terrain, surroundings, and atmosphere is just too different to feel like you are truly experiencing other courses from around the world. That isn't to say the course design isn't good, because it is solid for sure, but it leaves me wanting more. Maybe that is because the holes they chose to copy are rarely the signature hole from the corresponding course and thus easily forgettable; the 18th being a strong exception to that. Eliminating the idea of the holes being replicas at all, the design is good and takes players on a journey through various elevations and requiring a good mix of shots. Course conditions are commendable and you won't find many people walking since carts are included in the green fees.
By the Numbers
Tees
Par
Yardage
Rating
Slope
Gold
72
7194
74.5
140
Green
72
6628
72.1
131
White
72
6042
69.1
124
Orange
71
5043
68.2
120
Fastee Course
71
3004
57.9
100
Individual Hole Analysis
Signature Hole: 15th Hole – 230 Yard Par 3 – The best view of the famous Las Vegas Strip is afforded on the downhill 15th at Bear's Best. This lengthy one-shotter plays to a green flanked in front left and front right by bunkers, though the sand on the left carries much deeper in the green and protects pin positions on that side of the putting surface. If you hang your tee shot right towards the bunker on that side but manage to carry the sand, the terrain will kick your ball back towards the short grass and set up a birdie putt. For Las Vegas scenery, it is tough to beat the strip and mountains that create the backdrop here; enjoy.

Best Par 3: 4th Hole – 229 Yards – Modeled after the second par three on Old Works' front nine, the 4th hole at Bear's Best is characterized by one distinguishing feature; black sand. Shipped down from Anaconda, Montana where the black sand originated as a slag byproduct of the copper smeltering process, the ebony granules offer a stark contrast to traditional white sand and is surprising easy to play from as it doesn't cake together as much. The hole drops downhill further in Montana than it does in Las Vegas but both offer an opportunity to cut some yardage off the tee shot. Unless you finish short right in the bail out area, you are sure to encounter the black sand if you miss the green and are afforded an opportunity to try your skills out on this unique playing surface. It is a fun hole that will make you want to see what 18 holes of black sand golf would be like in Montana.

Best Par 4: 1st Hole – 413 Yards – The opening tee shot at Bear's Best feels like the opening to an oasis with a large pond flanking the entire left side of this dogleg left while palm tree dot an island in the water and along the outer rim of the fairway. Deciding how much of the lake to challenge off the tee is the biggest factor determining success or failure before eyeing down an approach shot that features bunkers on the left that can catch your ball before tumbling into the water. Jack has always made his courses demanding on player's shotmaking skills and Bear's Best introducing hole lets golfers know that this round is no different.

Best Par 5: 8th Hole – 599 Yards – Replicated after a three-shotter at Castle Pines south of Denver, pine trees line the fairway in an effort to transport players into Rocky Mountain country but these trees pale in size compared to Castle Pines. Nonetheless, this enjoyable par five plays well downhill and can encourage players to take a shot at reaching the green in two if they hit a mega tee shot that allows for a fairway wood to compliment the effort enroute to the green. Regardless of when you attack the green, the best angle is to come in from the right where an opening to the putting surface is afforded while most of the remaining surrounds of the green are protected by bunkers. Despite being three feet shy of 600 yards, this is a good opportunity to score a birdie if you take what the hole, and your game, gives you.

Birdie Time: 11th Hole – 317 Yard Par 4 – Going back to Old Works in Anaconda, Montana, the 11th hole is a short par four that you can drive if everything comes together for you. Black sand once again is the key feature and the design calls for a high cut that will works it way to the green that is just out of view from the tee. The opening to the green is wide open but the narrow green is protected on both sides by the ebony hazard, but hitting out of the sand is so easy that getting up and down for a birdie is still very much a possibility if your drive finds one of the bunkers. Even if you prefer to layup, you'll have a short wedge shot into the green which will allow you to go pinseeking.

Bogey Beware: 18th Hole – 463 Yard Par 4 – The finishing hole at Bear's Best is, well, its best! Modeled after the famous finishing hole at PGA West in Palm Springs, this stout two-shotter doesn't yield a lot of pars and even fewer greens in regulation. Water flanks the right side and the fairway slowly, but steadily, bends toward it from tee to green and is in play the entire hole. Bunkers pinch the front of the green with sand continuing to come into play as the green works its way back while creating plenty of challenging pin placements. Hitting this green in regulation takes nothing less than a 9 out of 10 on the execution meter and missing the green will likely yield a bogey or worse. This hole is tough . . . really tough and an exceptional test to finish your round on.