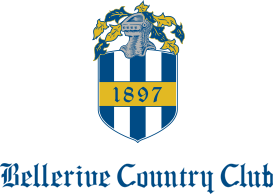 Golf Course Review by: Billy Satterfield
The Takeaway: The famed championship course of the Show Me State, Bellerive is typical of what you'd find at a major championship venue with a testing layout featuring straight forward strategy but is devoid of architectural character or intrigue. Grade B+
Quick Facts
Designer: Robert Trent Jones Sr. 1960/Rees Jones 2007 & 2011
Cost: Private
Phone Number: 314-434-4400
Course Website: Official Website - Visit Bellerive Country Club's official website by clicking on the link provided.
Directions: Get here! - 12925 Ladue Road, St. Louis, Missouri 63141 – UNITED STATES
Photos: See additional photos of Bellerive Country Club
What to Expect: Bellerive Country Club is the most famous course in the Show Me State given its history of hosting major championships; namely the 1965 U.S. Open as well as the 1982 and 2018 PGA Championships. The Robert Trent Jones layout has been touched up by Rees Jones over the years with the goal of what "The Open Doctor" is always brought in for; to get the course ready to host a major championship. As such, Bellerive is typical in the layout and strategy that you'd find at a course that is the venue for the best players in the world. There will generally be bunkers on each side of the fairway 280 - 320 yards from the back tees, no hidden or blind shots, straight forward strategy, and nothing too crazy on the greens. The result is a great test of skill, but very little character or architectural intrigue to enjoy. That isn't too say Bellerive isn't a good course, because it very much is, it just lacks the character and architectural chops that the elite courses in the world enjoy. The track enjoys some nice rolling terrain to increase the interest level and keep players on their toes with club selections and shot shapes. Carts are available to scoot around the course in or you can soak in the experience by taking a walk with a caddie. Ultimately, Bellerive is designed to be a strong test and it accomplishes that. It lacks the charm of America's bucket list courses, but is certainly among the elite to play in St. Louis.
By the Numbers
Tees
Par
Yardage
Rating
Slope
Black
72
7460
76.3
146
Gold
72
7365
75.7
142
Blue
72
6871
73.7
140
Green
72
6408
71.7
137
White
72
6023
70.0
131
Silver (Women)
72
5529
73.0
133
Red (Women)
72
5100
70.6
129
Individual Hole Analysis
Signature Hole: