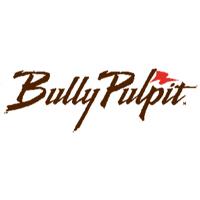 Golf Course Review by: Billy Satterfield
Rankings: 4th

The Takeaway: Hurdzan saved the best for last with a four hole closing stretch that leaves a lasting impression, but there isn't a ton to get excited about before that. However, the remote setting near Theodore Roosevelt National Park feels serene throughout the round. Grade C
Quick Facts
Designer: Michael Hurdzan in 2004
Cost: $69 - $109 Click for current rates
Phone Number: (701) 623-4653
Course Website: Official Website - Visit Bully Pulpit Golf Course's official website by clicking on the link provided.
Directions: Get here! - 3731 Bible Camp Rd, Medora, North Dakota 58645 – UNITED STATES
Photos: See additional photos of Bully Pulpit Golf Course
What to Expect: Bully Pulpit is located in a remote setting near Theodore Roosevelt National Park in southwest North Dakota in an area that isn't exactly known for golf. The mountain views and colorful vistas afforded in the area look like something you'd expect is western Colorado or the southwest portion of the United States. The front nine is pretty flat with tree lined holes that have little to help them stand out beyond the appeal of the remote setting. If you played Jackson Hole Golf & Tennis Club or Sun Valley Resort, then you have a good idea of what to expect here. But it is the back nine that brings people to Bully Pulpit, and in particular the final four holes as it goes up to the elevated portion of the property where the holes become more engaging and exhilarating. Every single staff member or patron we talked to while at Bully Pulpit would talk about the final four holes when asked what their favorite hole(s) were. Admittedly I had higher expectations going into Bully Pulpit based on some of the pictures and its lofty ranking within the state. Unfortunately, Bully Pulpit's high ranking within the state is more a product of a lack of competition than it is being a stellar course that you need to drop everything and go play. If you are in the area then it is certainly worthy of stopping in with your clubs to tee it up, but I wouldn't go too far out of my way to get there or build a trip around it.
By the Numbers
Tees
Par
Yardage
Rating
Slope
Black
71
6873
73.9
128
Gold
71
6387
71.8
122
Blue
71
5755
68.5
115
Blue/White
71
5372
66.7
112
White
71
5051
65.2
107
White/Red (Ladies)
71
4725
67.8
113
Red (Ladies)
71
4460
66.3
109
Individual Hole Analysis
Signature Hole: 16th Hole – 161 Yard Par 3 – This is the hole that gets everyone talking at Bully Pulpit. A dramatic do or die hole, the 16th plays as a desert island green where if you miss the green you may actually be happy to find yourself in the crescent bunker on the left side that sits 15 feet below the putting surface since it at least delivers a chance to save par. With nothing but natural terrain views in every direction, this hole is as attractive as it is memorable.

Best Par 3: 7th Hole – 210 Yards – A beauty of a one-shotter with the iconic stone mountains from the North Dakota Badlands creating the background, the 7th at Bully Pulpit is an eye-catcher that will also test your game. The ideal play is a fade that starts at the front left and cuts to the center of the green while avoiding the bunker behind the green.

Best Par 4: 18th Hole – 406 Yards – Bully Pulpit's narrowest chute awaits on the 18th with a trio of fairway bunkers on the left side stealing players' confidence. The challenge doesn't let up on the approach shot that plays 20 feet uphill over a pair of deep bunkers that might as well be coffins if you end up there. Bully Pulpit is a difficult course for the average player and you might hear some sighs of relief that the round is over from players walking off the 18th.

Best Par 5: 17th Hole – 503 Yards – The reachable 17th features a series of center cut bunkers that need to be avoided if the aspirations of having an eagle putt are going to become a reality. The elevated tee will give players extra distance to encourage players to go for it in two, while a bunker 75 yards short of the green will be a concern for players laying up short. Not getting a birdie here will feel like a missed opportunity.

Birdie Time: 14th Hole – 318 Yard Par 4 – The short 14th gives players a great chance to take a stroke back from Old Man Par before heading through Bully Pulpit's iconic stretch of holes. The hole is driveable for longer players while those looking to layup simply need to stay short of the greenside bunkers and use their wedge to go flag hunting. The mountain backdrop is an inspiring addition to a hole you should walk off with a smile on your face.

Bogey Beware: 15th Hole – 404 Yard Par 4 – This hole is borderline insanity. The narrow fairway is already difficult to hit but it also slopes hard from left to right effectively kicking balls into the thick brush. Keeping the ball too far left off the tee brings the fescue into play and results in little chance of advancing the ball to the green. The approach shot plays well uphill to a blind putting surface where greens in regulation are a rarity at best. The smartest play here might be an iron off the tee, laying up on the second shot, and making sure you take nothing worse than bogey.