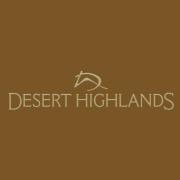 Golf Course Review by: Bill Satterfield
The Takeaway: Jack Nicklaus' first effort in the Arizona desert is his best. Desert Highlands has great terrain, engaging risk/reward options, impeccable conditioning, and more playability than most desert courses. Unquestionably one of the premier courses in Arizona and a personal favorite. Grade A-
Quick Facts
Designer: Jack Nicklaus in 1983
Cost: Private
Phone Number: (480) 585-8521
Course Website: Official Website - Visit Desert Highlands Golf Club's official website by clicking on the link provided.
Directions: Get here! - 10040 E. Happy Valley Rd., Scottsdale, Arizona 85255 – UNITED STATES
Photos: See additional photos of Desert Highlands Golf Club
Accolades: Ranked in the Top 100 Courses in America by Golf Digest from 1987-1995. Ranked 10th in the state of Arizona by on Golf Digest's 2013-14 Best in State list.
What to Expect: Desert Highlands was Nicklaus' first effort in Arizona's vast desert terrain and many consider it his best. The opening tee shot of the day instantly gets the blood flowing as you stand on a severely elevated tee box overlooking Scottsdale/Phoenix with a ribbon of a fairway streaming below. Desert Highlands features relatively forgiving fairways for a target course and features stunning views of Pinnacle Peak.
By the Numbers
Tees
Par
Yardage
Rating
Slope
Nicklaus (Black)
72
7066
73.8
149
Palmer (Blue)
72
6734
72.4
140
Combo (Blue/White)
72
6526
71.3
136
Player (White)
72
6303
70.4
132
Watson (Yellow)
72
5815
67.9
126
Middle (Red/Women)
72
5390
71.7
129
Front (Green/Women)
72
5008
70.2
121
Individual Hole Analysis
Signature Hole: 1st Hole – 350 Yard Par 4

Best Par 3: 16th Hole – 242 Yards

Best Par 4: 6th Hole – 428 Yards

Best Par 5: 11th Hole – 563 Yards

Birdie Time: 15th Hole – 146 Yard Par 3

Bogey Beware: 8th Hole – 444 Yard Par 4