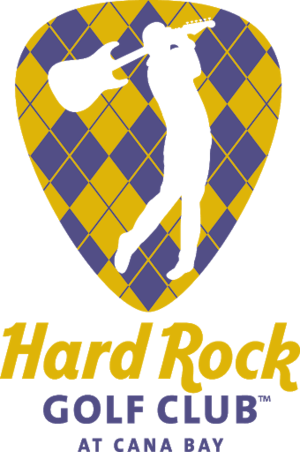 Golf Course Review by: Billy Satterfield
Rankings: 10th

The Takeaway: Hard Rock does a good job with balancing their rock-and-roll theme with golf, but ultimately the golf should matter most and Hard Rock doesn't quite deliver a platinum hit mainly due to the overdeveloped setting. Grade B-
Quick Facts
Designer: Jack Nicklaus in 2010
Cost: $180 - $250 Click for current rates
Phone Number: 866-842-6521
Course Website: Official Website - Visit Hard Rock at Cana Bay's official website by clicking on the link provided.
Directions: Get here! - Boulevard Turístico del Este Km.28 No.74, Macao, Dominican Republic – DOMINICAN REPUBLIC
Photos: See additional photos of Hard Rock at Cana Bay
What to Expect: What do you get when you combine rock and roll enthusiasts with a golf course; Hard Rock Golf Club in Cana Bay. Rather than holes being named after features on the course or characteristics of the design, classic rock and roll songs are assigned to each offering and may offer inspiration to players when they encounter one of their favorite tunes. Jack Nicklaus did an admirable job with the layout, however the property itself doesn't provide a lot of inspiration to work with. Many of the holes traverse along mild terrain, ocean views are devoid of the experience, and development surrounding the course tends to be where your eyes are unfortunately drawn to rather than having beautiful surroundings to enjoy. That isn't to say there aren't some aesthetics to enjoy, but they are mainly done through the exposure of rock and sand throughout the routing rather than letting Mother Nature's backdrops be the highlight. One of the perks of a day at Hard Rock is that all of your food and drinks are included. So enjoying modest sandwiches and beverages before, during, and after the round are encouraged which is a nice perk rather than having to buy everything separately. It goes with the all-inclusive theme that many resorts employ in the Dominican Republic. Players are provided purple and gold golf carts that match the Hard Rock theme and you half expect live performances from ZZ Top to be played from a bluetooth speaker. Ultimately, a day at Hard Rock is a fun experience, but when it comes to just the golf, there are much more impressive layouts to enjoy in the DR.
By the Numbers
Tees
Par
Yardage
Rating
Slope
Black
72
7253
76.1
135
Blue
72
6751
73.7
133
White
72
6247
71.1
122
Red (Women)
72
5333
72.1
121
Individual Hole Analysis
Signature Hole: 4th Hole – 200 Yard Par 3 –

Best Par 3: 10th Hole – 197 Yards –

Best Par 4: 18th Hole – 444 Yards –

Best Par 5: 11th Hole – 585 Yards –

Birdie Time: 7th Hole – 321 Yard Par 4 –

Bogey Beware: 9th Hole – 453 Yard Par 4 –

Recommended Accommodations
The Sanctuary at Los Corales
- Located within the gated Los Corales Beach Village development in Punta Cana, The Sanctuary features a high-end condo experience you aren't soon to forget. With six condos to pick from ranging from the convenient ground floor units to the luxurious penthouse offering on the top floor, patrons are spoiled with kitchens that feature stainless steel appliances, elegant flooring, granite countertops, and contemporary cabinetry. From the balcony of the penthouse suites you can soak in the views of the surrounding palm trees that pair with the lovely weather to create a wonderful setting to relax and enjoy. Inside your condo, ceiling fans pair with the high efficiency air conditioning system to keep you at perfect comfort while flat screen TVs with an array of channels deliver endless entertainment options. Speaking of entertainment, The Sanctuary is located within walking distance of white sand beaches, shopping, and a wide variety of restaurants. Most importantly, The Sanctuary is centrally located for accessing Punta Cana's world class golf courses. A quick drive to the south takes you to the famed Corales Golf Course at Puntacana Resort where the PGA Tour visits every March and pairs with its sister course, La Cana, with coastal holes and an island green. 20 minutes to the north will get you to Iberostar Bavaro, Hard Rock at Cana Bay, and Punta Blanca Golf Courses where your all-inclusive experience delivers all the golf, sandwiches, and drinks your heart desires.
Contact: +1 972-839-3877 or info@thesanctuarypuntacana.com