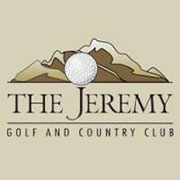 Golf Course Review by: Bill Satterfield (2012)
Rankings: 25th

The Takeaway: This Arnold Palmer layout used to be the toast of Utah but now stands as the lowest ranked private club in Park City. It isn't because Jeremy isn't a good course, because it is solid, but Park City has seen a quick influx of top level courses that has simply dropped Jeremy off the radar. Worth playing, but there are better options in this ski town. Grade C+
Quick Facts
Designer: Arnold Palmer in 1981
Cost: Private
Phone Number: Jake Hanley, Head Professional – (435) 649-2700
Course Website: Official Website - Visit Jeremy Golf and Country Club's official website by clicking on the link provided.
Directions: Get here! - 8770 Jeremy Road, Park City, Utah 84098 – UNITED STATES
What to Expect: This Arnold Palmer design instantly shot up to the top of Utah's most revered clubs after opening in 1981. Some of that was due to the exposure and hype surrounding the course while it hosted a Champions Tour event from 1982-1992. During that 11-year stint, the event saw winners ranging from inaugural winner Billy Casper to two-time winner Miller Barber. The routing begins benign enough and then, like Emeril, kicks it up a notch with the exhilarating downhill par three 4th hole. From there the course cascades down a canyon before opening up to a large meadow-like area prior to climbing back uphill to the clubhouse location. The course is rather hilly in portions and features some long distances between some greens and tees which results in a difficult walk if you are opposed to riding in the provided cart. Conditioning is average for a country club and the driving range is a bit short since the use of drivers is discouraged. With all of the new courses Utah has seen get built over the last 20 years, The Jeremy has fallen out of Utah's Top 10 but remains a fine facility that isn't facing the same financial woes many of the new courses have contended with.
By the Numbers
Tees
Par
Yardage
Rating
Slope
Blue
72
7138
73.5
135
White
72
6559
71.4
128
Gold
72
6056
69.1
125
Yellow (Women)
72
5470
71.1
126
Red (Women)
72
5158
68.4
121
Individual Hole Analysis
Signature Hole: 4th Hole – 196 Yard Par 3
Best Par 3: 11th Hole – 186 Yards
Best Par 4: 5th Hole – 458 Yards
Best Par 5: 9th Hole – 498 Yards
Birdie Time: 1st Hole – 375 Yard Par 4
Bogey Beware: 2nd Hole – 431 Yard Par 4