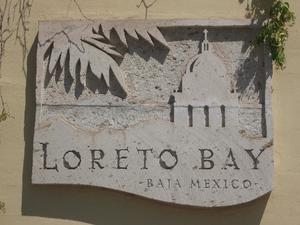 Golf Course Review by: Billy Satterfield
Rankings: 15th

The Takeaway: Loreto Bay features two absolutely fantastic holes, a couple more good holes, and several forgettable holes. The conditioning is rough, the facilities neglected, and operation hanging onto a thread. If you are going to TPC Danzante Bay then this is the only other course in the area to play, but the experience will be night and day. Grade C-
Quick Facts
Designer: Mario Schjetnan and Pedro Guereca in 1991; David Duval renovation in 2006
Cost: $35 - $75 USD
Phone Number: +52 613 133 0010
Course Website: Official Website - Visit Loreto Bay Golf Resort & Spa 's official website by clicking on the link provided.
Directions: Get here! - Paseo de la Misión de Loreto S/N. Nopoló, Loreto, Baja California Sur 23880 – MEXICO
Photos: See additional photos of Loreto Bay Golf Resort & Spa
What to Expect: Located in a town better known for fishing than golf, Loreto Bay unfortunately is a course that has seen better days and it is difficult to have confidence is what its future offers. A hurricane wiped out the course in the mid-2010s and from what I can tell the ownership isn't making a priority of getting the course resurrected to its former standing. As such, the conditioning is pretty rough and attracts mostly locals looking for a deal. The terrain is mostly flat and runs through a housing development with the front nine enjoying a couple of holes by the water before reaching the climatic back-to-back par threes found at 14 and 15 which really are fantastic. There are some pretty views and some quality design features, but they are tough to enjoy when the proper care isn't being put into the property to make the course play like it should. Carts are available to rent though they are aged and in quite rough shape. With the recent implementation of TPC Danzate Bay 30 minutes away, Loreto Bay will hope to get some spillover traffic on their course and convince management to reinvest in the property.
By the Numbers
Tees
Par
Yardage
Rating
Slope
Black/Negro
72
6811
72.7
134
Gold/Dorado
72
6337
70.2
129
Blue/Azul
72
5889
68.2
124
White/Blanco
72
5422
66.1
116
Red/Rojo (Women)
72
4919
68.1
112
Individual Hole Analysis
Signature Hole: 14th Hole – 150 Yard Par 3 – If this hole was at a more impressive golf course it would get plenty of hype in the golf world, but alas, it is not. Situated on the rocky coastline of the Gulf of California, the setting is half breathtaking and half inspiring. The challenge here isn't length, it is judging how the wind will affect that shot that is often coming in from the player's right off the water. This really is a stunning hole that is natural in its design and understated in its approach.

Best Par 3: 15th Hole – 222 Yards – Like the famous 15th and 16th at Cypress Point, Loreto Bay goes back-to-back with a short par three followed by a long par three with similar carries required for each. The lengthy 15th needs to fly over 200 yards in the air to clear the cove that is carved from the Gulf of California. The bailout is to the left where a strip of fairway wraps around and offers dry ground on a hole that is more blue than green. 14 and 15 are nothing short of impressive and may be worth the green fee on their own.

Best Par 4: 8th Hole – 324 Yards – Playing along the coastline, the 8th is the finest hole on the front nine that offers a great chance for birdie in a great setting. The wind coming off the salt water can cause havoc on a player that isn't committed to their shot, while players who deliver a solid tee shot will be rewarded with a short shot into the green.

Best Par 5: 10th Hole – 560 Yards – The back nine starts with a 560 yard par five that features water up the entire right side. Downwind this hole becomes much easier to reach in two and can temp players to challenge the green flanked by water. Whether you try to reach it in two or three, wise play can be rewarded with a birdie to start the back nine.

Birdie Time: 16th Hole – 324 Yard Par 4 – Coming off the amazing 14th and 15th holes, Loreto Bay doesn't set you down too hard and instead produces this short dogleg left where you should be thinking birdie. Water protects the entire left side but there is no need to challenge it as a long iron off the tee to the middle of the fairway is plenty good to leave a wedge in your hand to attack the flag with. If you coughed up a stroke on the lengthy 15th, this is a good chance to take that stroke back.

Bogey Beware: 3rd Hole – 460 Yard Par 4 – Loreto Bay wastes no time delivering its toughest test. A long par four tipping out at 460 yards, the 3rd hole is a stiff test that gets worse in the wind. Bunkers flank the left side of the hole and trouble exists up the entire right side so there is nowhere to err off the tee. Hitting this green in regulation is a stout task and a par here will take a half stroke on the field.