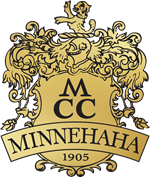 Golf Course Review by: Billy Satterfield
The Takeaway: A classic Langford and Moreau layout with several elevation changes and wonderful green complexes, Minnehaha enjoys having the Big Sioux River meander through the property which is used to irrigate the property and help provide top shelf conditions. Grade B
Quick Facts
Designer: William Langford and Theodore Moreau in 1927
Cost: Private
Phone Number: (605) 336-1085
Course Website: Official Website - Visit Minnehaha Country Club's official website by clicking on the link provided.
Directions: Get here! - 3101 W 22nd St, Sioux Falls, South Dakota 57104 – UNITED STATES
Photos: See additional photos of Minnehaha Country Club
What to Expect: Minnehaha is an old school country club with grass stretching across the entire property and featuring very few places where someone could lose a golf ball. When the club was first established they were able to secure water rights from the Big Sioux River that works its way through the property and helps keep the course in as good of shape as any course in the region. In addition to superb conditions, the green complexes stand out as the highlight at Minnehaha with Langford and Moreau offering large putting surfaces defended with steady slopes and beautiful bunkering. The fairways are lined by trees but not in an overbearing way that impedes the layout, rather, they offer direction in the routing and a feature to contend with when tee shots go off line. The course reaches its climax at the 12th hole where players are greeted with an elevated tee shot over the Big Sioux before the fairway bends to the left and requires players to carry it again on the approach shot. There is a nice combination of movement in the terrain yet is a very comfortable walk. Ultimately, it is an "everyday" type of course that you can enjoy round after round without growing tired of it, losing a lot of balls, or being frustrated with various architectural elements; the classic example of a club you want to be a member of.
By the Numbers
Tees
Par
Yardage
Rating
Slope
Black/Blue
71
6729
73.6
135
Blue
71
6559
72.8
133
Blue/White
71
6201
70.8
131
White
69
6022
70.1
128
White/Red
69
5481
66.8
119
Red (Ladies)
73
5189
70.7
125
Individual Hole Analysis
Signature Hole: 12th Hole – 509 Yard Par 5 –

Best Par 3: 8th Hole – 159 Yards –

Best Par 4: 18th Hole – 414 Yards –

Best Par 5: 16th Hole – 551 Yards –

Birdie Time: 7th Hole – 472 Yard Par 5 –

Bogey Beware: 3rd Hole – 474 Yard Par 4 –