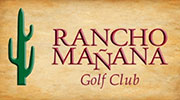 Golf Course Review by: Billy Satterfield
Rankings: 31st

The Takeaway: Bring a lot of balls or leave your driver at home when playing Rancho Manana. The tight fairways leave little room for your ball to fly crooked and the surrounding desert landscape isn't conducive to easily retrieving your Pro V1 from. The elevation changes provide some interesting hole features but the layout is too cramped to be as enjoyable as it could be in that topography. At a moderate green fee I would take my wife or kids to play here, but it isn't the kind of course you'd play on a buddies golf trip. Grade C-
Quick Facts
Designer: Bill Johnston in 1989
Cost: $30.00 - $139.00 (includes cart) Click for current rates
Phone Number: (480) 488-0398
Course Website: Official Website - Visit Rancho Manana Golf Club's official website by clicking on the link provided.
Directions: Get here! - 5734 E. Rancho Manana Blvd., Cave Creek, Arizona 85331 – UNITED STATES
Photos: See additional photos of Rancho Manana Golf Club
What to Expect: Rancho Manana is a shorter course located well north of Phoenix in the 1986 incorporated city of Cave Creek. While there isn't a lot of length, don't let that fool you into thinking it is easy. The track features tight fairways, a lot of elevation changes, and plenty of bunkering. The forward tees are just over 4400 yards which appeals to the older generation of golfers along with beginners. The conditioning is only slightly above average and is hampered by the number of geese living on the property, particularly on the back nine. You will also want to take a cart when playing Rancho Manana to handle the elevation changes and distances found between some of the greens and tees. There are enough quirks in the layout that you'll want to take special note of the tips listed for each hole on the scorecard before making an uneducated decision on the tee or on an approach shot. Artificial mounding is found at various spots throughout the layout which I'm not a big fan of but was installed to help provide separation between some holes. Water comes into play a couple of times on the back nine and housing lines several of the holes throughout the track.
By the Numbers
Tees
Par
Yardage
Rating
Slope
Blue
70
6016
66.7
128
White
70
5407
64.0
119
Red (Women)
70
4464
64.1
112
Individual Hole Analysis
Signature Hole: 7th Hole – 207 Yard Par 3 – A downhill par three that plays at least a club less to the green and features lengthy views. There is more grass to land on then what you see from the tee.

Best Par 3: 9th Hole – 192 Yards – Yet another downhill par three where part of the green and landing areas are blind from the back tee. The saguaro cacti are a great reminder of the natural Arizona desert you are playing in.

Best Par 4: 15th Hole – 377 Yards – This par four plays over a pond initially before turning left to a raised greensite.

Best Par 5: 16th Hole – 508 Yards – A dogleg right that plays through a valley with homes framing the left side of the hole. Reaching this hole in two is well within reason, particularly if you cheat some yardage by challenging the dogleg.

Birdie Time: 8th Hole – 272 Yard Par 4 – I've played par threes longer than this hole, so failing to take advantage of this short par four would be a significant failure on your scorecard. With little to worry about off the tee, take a rip at this green and see if you can capture a birdie, or even better, an eagle.

Bogey Beware: 4th Hole – 379 Yard Par 4 – This dogleg right features the most demanding approach of the day by far. The second shot requires a forced carry over a ravine to a raised green with a steep slope fronting it and bunkers on either side. It is absolutely the most interesting hole on the course and equally challenging.