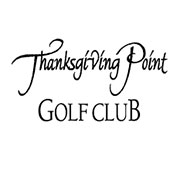 Golf Course Review by: Mike Sutorius
Rankings: 6th

The Takeaway: Grade B-
Quick Facts
Designer: Johnny Miller in 1997
Cost: $39.00 - $79.00 Click for current rates
Phone Number: (801) 768-7400
Course Website: Official Website - Visit Thanksgiving Point Golf Club's official website by clicking on the link provided.
Directions: Get here! - 3003 N Thanksgiving Way, Lehi, Utah – UNITED STATES
Photos: See additional photos of Thanksgiving Point Golf Club
What to Expect: Length, great par 3s, extraordinary design variety, and wind. At over 7700 yards from the tips, Johnny Miller set up his magnum opus as a track capable of hosting the world's best. A 250 yard par 3, a 495 yard par 4, and brutal 678 yard par 5 all demand the capable use of every long stick in your bag. Dogleg lefts and dogleg rights, elevated greens and elevated tees, and an artisan's use of Utah's Jordan River provide an experience devoid of duplicate holes and perpetual curiosity of what the next hole will bring. Positioned at the narrow transition point between Utah Valley and the Salt Lake Valley, wind is a nearly constant factor but adds to the distinctive personality of an extraordinary course.
By the Numbers
| Tees | Par | Yardage | Rating | Slope |
| --- | --- | --- | --- | --- |
| Black | 72 | 7714 | 76.2 | 137 |
| Gold | 72 | 7279 | 74.1 | 135 |
| Blue | 72 | 6784 | 71.7 | 130 |
| White | 72 | 6344 | 69.7 | 122 |
| Red (Women) | 72 | 5838 | 72.8 | 135 |
Individual Hole Analysis
Signature Hole: 17th Hole – 250 Yard Par 3 – Thanksgiving Point's 17th would take this honor at most courses, and does so here as well. An absolute masterpiece, #17 makes strategic use of a tight 180 degree bend in the Jordan River to locate its wide, shallow-appearing, peninsular green. Tee boxes concurrently step from highest to lowest and longest to shortest, but all give ample view of the trouble that exists as the water awaits an occasion to baptize your ball for any shot hit short, left, or long.
Best Par 3: Seldom does a course present multiple viable contenders for the best par 3. Thanksgiving Point offers a trio. #4 gets it started with a stunning challenge from elevated tees to a large and undulated green far below -with the Jordan River as a uninterferring backdrop. #7 makes its case as tee boxes cascade from left to right, providing multiple angles to a huge, tiered green that requires a long stroke over the Jordan River. A wayward mis-hit anywhere but to the right side of the green can result in the need to re-tee and take your 3rd stroke. The afore mentioned 17, though, takes the cake. Playing 250 yards from the tips, often into a headwind, with little room for error the penultimate hole of the round is tough to beat.
Best Par 4: Elevated tee boxes, water in play for the length of the hole, and a testing approach shot could be listed as the ingredients for the toughest par 4. Number 12's possession of all these qualities can certainly contribute to its difficulty, but also make it a postcard-worthy trophy that requires diligent shot and decision making from tee to green. The elevated tees allow each golfer to observe first-hand the way the hole wraps right to left like a boomerang around a large lake, making line of flight and shape of shot paramount as miscues in either area can result in your drive splashing to the left or running through the fairway to the right-side parallel hazard. At 453 yards from the tips, length and proper placement off of the tee can aid in a better approach opportunity to a tucked and undulated green.
Best Par 5: If you appreciate length, #11 is going to be your new favorite. Playing from north to south at 678 yards from the tips, and requiring a long, intimidating forced-carry over a large lake off the tee, this prosecutor is going to put your long game on trial. A front, right pin is among the more difficult placements as a deep expansive bunker fronts the green and a very large slope on the green make any putts from behind the hole almost impossible to lag close. If the wind assisted your length on #11, it will punish it on the south to north running #14 (or vice versa). #14 requires a carry across the river that, like the 11th, becomes increasingly difficult depending upon your choice of tees. 622 yards follow the river to a green that is lies at the hole's lowest point and features multiple, thrill inducing undulations.
Birdie Time: A quick start is your best chance at birdie on this lengthy track. Playing just 379 yards from tips, and offering a local free drop from the bark and flowers that line both sides of the hole, the opening hole is a good opportunity to dial in the short irons and put a red number on the card. Take enough club and play for the center of the green, even with an often front left pin. A ridge through the center of the green will often funnel a shot that is a little long or right down toward the target.
Bogey Beware: Thanksgiving Point's #1 handicap hole is well assigned. A par 4 that is 495 yards from tee to green is often played into a headwind. Gated gardens that are marked out-of-bounds parallel the hole to the left, and an unforgiving slope that drops to the Jordan River parallels the hole to the right, requiring accuracy to be coupled with length. Just getting your approach shot close to the green may not be a feat to celebrate, as several club-grabbing and ball concealing grass bunkers line the left side of the putting surface making an up-and-down unlikely.