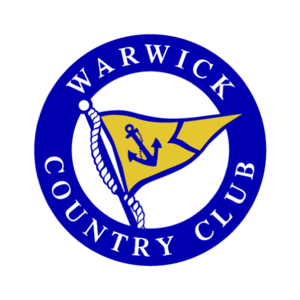 Golf Course Review by: Billy Satterfield
The Takeaway: One of the few courses in the country where the ocean is visible from every hole on the course, the biggest highlight by far are holes 8, 9, and 18 while the other 15 do little to set the course apart from other tree lined tracks. Grade B-
Quick Facts
Designer: Donald Ross 1924 (second nine added in 1954; Ron Pritchard restoration 1997)
Cost: Private
Phone Number: 401-739-0550
Course Website: Official Website - Visit Warwick Country Club's official website by clicking on the link provided.
Directions: Get here! - 394 Narragansett Bay Ave, Warwick, Rhode Island 02889 – UNITED STATES
Photos: See additional photos of Warwick Country Club
What to Expect: Warwick is the tale of three holes; numbers 8, 9, and 18 which are easily the highlight of the course and bring emphasis to the ocean that wraps the southwest tip of the property. Conversely, the other 15 holes are mostly tree lined offerings with little to get excited about and where you'll find yourself longing for the routing to take you to the nearby ocean. This feeling is magnified by the fact that the ocean is visible from every hole on the course yet the amount of time you play near it is extremely limited. The visuals of the ocean were made possible through a tree removal program that highlighted the course's best feature; its setting. Playing to a par 69, the routing has just one par five and it is under 500 yards so as you can imagine the overall length of the course is mild. The throwback style features 13 two-shotters with the ones on the front delivering the best designs to enjoy as a group. The course offers an easy walk although carts are available for those electing to take a ride between shots. Ultimately, Warwick is one of those courses you long to give you a little more. It is a pleasant enough track, but it would almost be better off away from the ocean with it out of your mind rather than sitting there teasing you but never delivering a substantial encounter with it.
By the Numbers
Tees
Par
Yardage
Rating
Slope
Black
69
6527
72.6
129
Blue
69
6361
72.0
128
White
69
6183
71.2
126
Forward
69
5518
67.2
119
Forward (Ladies)
72
5518
72.6
121
Individual Hole Analysis
Signature Hole: 18th Hole – 440 Yard Par 4 –

Best Par 3: 9th Hole – 184 Yards –

Best Par 4: 8th Hole – 387 Yards –

Best Par 5: 15th Hole – 474 Yards –

Birdie Time: 6th Hole – 337 Yard Par 4 –

Bogey Beware: 1st Hole – 456 Yard Par 4 –