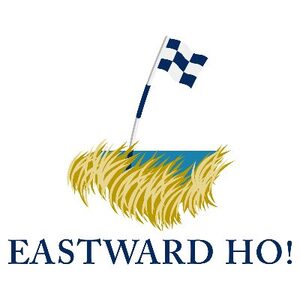 Golf Course Review by: Billy Satterfield
Rankings: 1st

The Takeaway: Eastward Ho! enjoys one of the finest properties for a golf course in the country and stands as perhaps one of its most underrated. With incredibly undulated terrain, stunning ocean views, and engaging hole designs, Eastward Ho! goes down as one of my all time favorites. Grade A+
Quick Facts
Designer: Herbert Fowler 1921
Cost: Private
Phone Number: 508-945-0003
Course Website: Official Website - Visit Eastward Ho!'s official website by clicking on the link provided.
Directions: Get here! - 325 Fox Hill Rd, Chatham, Massachusetts 02633 – UNITED STATES
Photos: See additional photos of Eastward Ho!
What to Expect: Let's get something out of the way; Eastward Ho! is one of the best and most underrated golf courses in the country. The spectacular setting on Cape Cod in southern Massachusetts enjoys extensive coastline, engaging terrain, and top shelf hole designs to create a course with few rivals. The property is much hillier than one might expect, especially so close to the ocean, and it will test every bit of your shot making skills, mental aptitude, and ability to adapt. While the overall length isn't long, the hole designs do fit seamlessly on the terrain in a classic figure 8 routing while delivering a wide variety of uphill and downhill shots from the tee and on the approaches. The result is one of the most memorable layouts you'll ever encounter and one that keeps you engaged from start to finish. The location is known for its exposure to the wind, evidenced by the bending flag on the club's logo, which adds to the elements players need to factor in and delivers a different experience each time around the loop. The 'darling' one-shotter 15th and insanely good closing 18th hole help make the case for the back nine being the superior side, but a strong counterpunch delivered by the coastal 4th and roller coaster 6th make the debate a strong one. From a conditioning standpoint, the turf is maintained with an ideal level of firmness on the fairways and receptiveness on the greens while making it challenging to find a blade of grass out of place. The course can be enjoyed on foot or by taking a cart, so if you are playing 36 you may try it each one way. From a comparison sake, it plays like a shorter version of Cal Club and feels more like a cross between Cruden Bay and St. Enodoc; a tall compliment indeed.
By the Numbers
Tees
Par
Yardage
Rating
Slope
Black
71
6437
72.2
143
Blue
71
6157
70.6
141
Gold
71
5809
69.3
133
White
71
5378
67.1
122
Green (Ladies)
73
4352
66.9
119
Individual Hole Analysis
Signature Hole: 15th Hole – 153 Yard Par 3 –

Best Par 3: 4th Hole – 182 Yards –

Best Par 4: 18th Hole – 460 Yards –

Best Par 5: 11th Hole – 485 Yards –

Birdie Time: 3rd Hole – 326 Yard Par 4 –

Bogey Beware: 6th Hole – 455 Yard Par 4 –