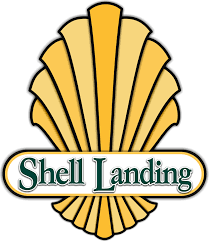 Golf Course Review by: Billy Satterfield
The Takeaway: One of the better courses on the Mississippi Gulf Coast, but not a headliner to build a trip around. A pleasant round of golf carved through the trees along the marshland in a mostly secluded location. Grade C+
Quick Facts
Designer: Davis Love III in 2000
Cost: $39.00 - $75.00 Click for current rates
Phone Number: 228.497.5683
Course Website: Official Website - Visit Shell Landing Golf Club's official website by clicking on the link provided.
Directions: Get here! - 3499 Shell Landing Blvd, Gautier, Mississippi 39553 – UNITED STATES
Photos: See additional photos of Shell Landing Golf Club
Accolades: Ranked 4th in Mississippi by Golf Course Gurus.
What to Expect: Located 15 miles east of the gaming town of Biloxi, Shell Landing is a Davis Love III design 1 ½ miles north of the Mississippi coastline but is devoid of any Gulf views. Unlike most upper end golf courses in the region which are backed by casinos, Shell Landing operates on its own merits and does so admirably. The course is routed with wide fairways through a forest of trees with some holes playing along salt marshes which brings in some scenic opportunities. This setting feels pretty isolated although there are some areas where housing has been developed near the course. The terrain is mostly flat however Davis did a nice job of shaping the property so that there is some movement in the fairway and greens to create interest in the routing. As such, the tame terrain makes Shell Landing an easy walk but carts are available to rent and ride in as well. Ultimately, Shell Landing is a good course and worth a visit when in the area. It may not be the headliner course of the Mississippi Gulf Coast, but teeing it up there won't be a disappointment either.
By the Numbers
Tees
Par
Yardage
Rating
Slope
Snapping (Black)
72
7024
73.8
134
Leatherback (Gold)
72
6531
71.2
129
Hawksbill (Blue)
72
6010
69.2
119
Gopherus (White)
72
5551
66.6
115
Sea Turtle (Ladies)
72
5047
69.6
118
Individual Hole Analysis
Signature Hole: 6th Hole – 412 Yard Par 4 – Often regarded as the most difficult two-shotter on the course, the tee shot plays over a marsh to a fairway that is surrounded on three sides by water, so you'll need to hit your distance correctly. The green is protected by water in front, back, and on the left side which can tighten your sphincter when you pull the trigger on your approach shot. Easily the best hole on the property, you'll enjoy it even more if you card a par.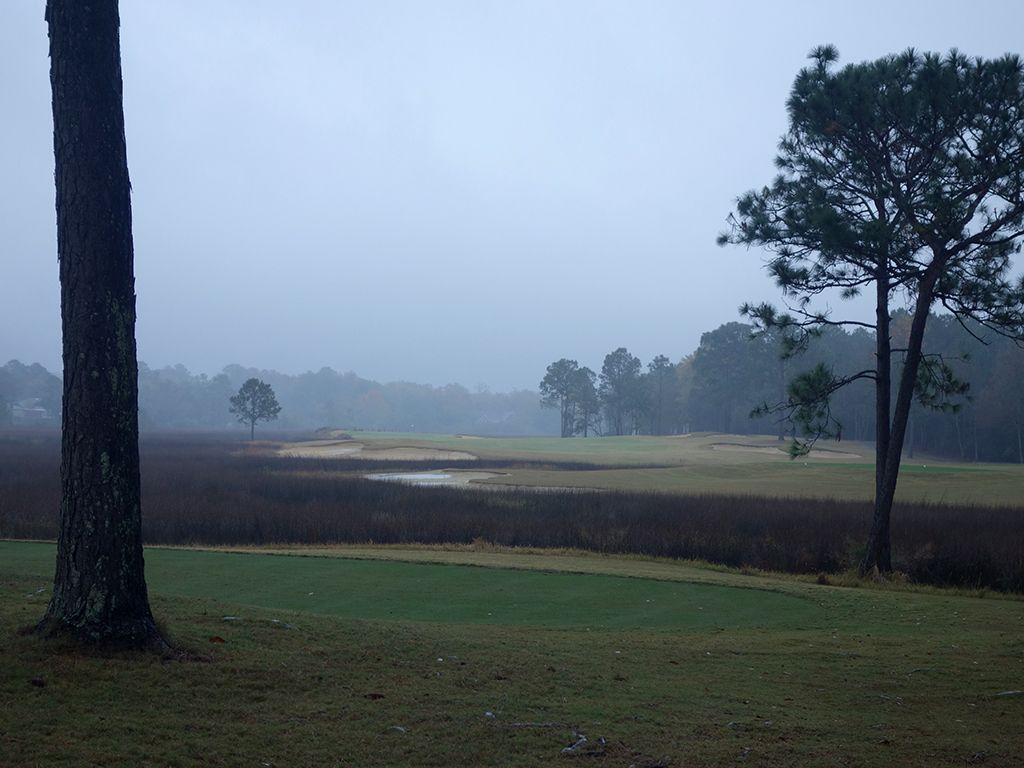 Best Par 3: 17th Hole – 193 Yards – It's all carry enroute to the green which is tucked behind an inlet of marsh here on the 17th. A trio of bunkers flank the back of the green and sit ready to punish players that don't trust their yardage flying over the water.
Best Par 4: 14th Hole – 414 Yards – Getting off the tee won't be difficult, but once you size up your approach shot you'll find out quickly what you are made of. Water runs up the left side and then cuts in front of the green. A bunker sits to the right of the putting surface to catch shots that bailout from the water, so you'll have to just man up and hit a good shot.
Best Par 5: 3rd Hole – 555 Yards – Two bunkers protect the right side of the driving zone before a long bunker flanks the left side of the layup zone. Reaching this green in two is a gutsy play as a pond fronts the entire putting surface, so the smartest play is to layup to a distance that leaves you a full shot in.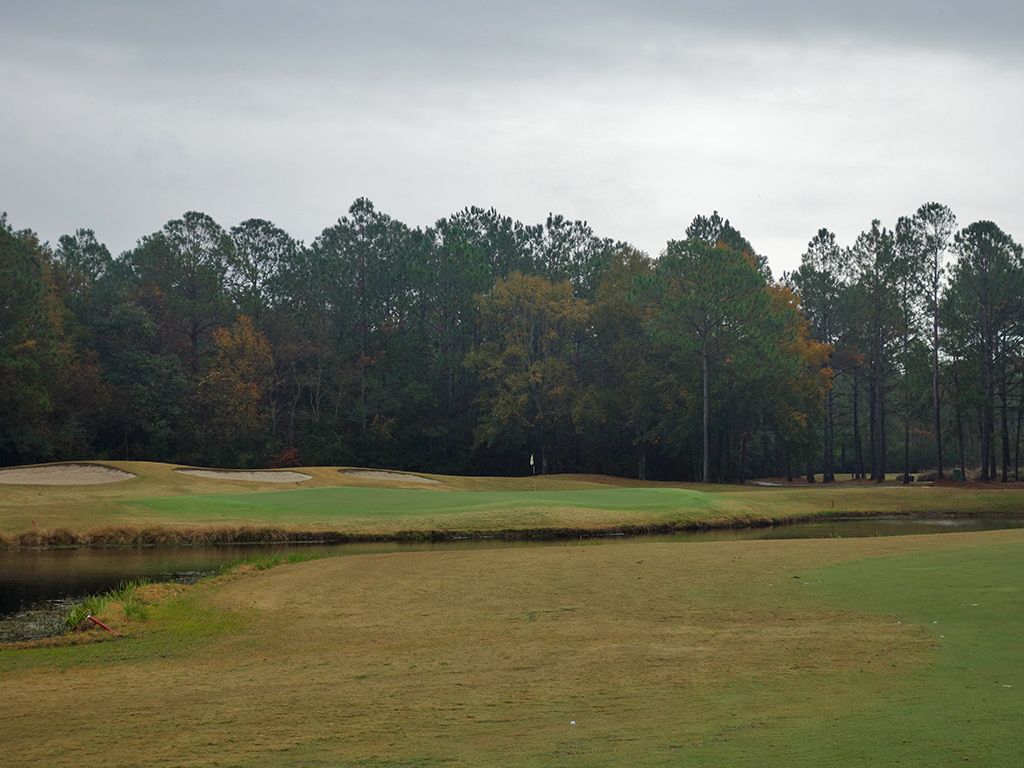 Birdie Time: 13th Hole – 512 Yard Par 5 – With just over 500 yards to cover, this par five is begging you to take a stroke from it. Avoiding the bunkers on the left side of the fairway, and the pond left of them, will grant an instant green light to take a rip at this green in two. The undulated green is well bunkered, but a par five this gettable needs to have some line of defense and birdie is on the table if your second shot is anywhere within 50 yards of the flags; assuming you aren't in the trees.
Bogey Beware: 18th Hole – 439 Yard Par 4 – Shell Landing saves its biggest test for last. The fairway doglegs right with bunkers on both sides of the bend to contend with. If you can hit a cut off the left bunker you will give yourself the best chance to get home safely on your second shot. A large bunker protects the left half of the green so you'll only want to aim at a flag on that side of the putting surface if you are in a nice groove. Getting off the box is the toughest thing here, but if you find the fairway then you should be able to take bogey off the table.