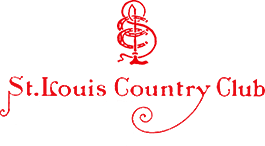 Golf Course Review by: Billy Satterfield
The Takeaway: A course worthy of study by any C.B. Macdonald fan, St. Louis CC brilliantly molds to the undulated terrain and requires superior shot making to conquer the relatively short layout. The excellent routing finishes with the best closing hole of any Macdonald course. Grade A
Quick Facts
Designer: C.B. Macdonald 1914
Cost: Private
Phone Number: 314-994-0011
Course Website: Official Website - Visit St. Louis Country Club's official website by clicking on the link provided.
Directions: Get here! - 400 Barnes Rd., St. Louis, Missouri 63124 – UNITED STATES
Photos: See additional photos of St. Louis Country Club
What to Expect: Located on the west side of the Gateway City, St. Louis Country Club is a classic Charles Blair Macdonald design on wonderfully undulated terrain where there is hardly a flat lie on the property. This tends to put a premium on the shot making skill players will need to have while navigating the course. Early in the routing you'll contend with back-to-back par threes on the 2nd (Biarritz) and 3rd holes; something perhaps most famously done at Cypress Point's 15th and 16th. The course also boasts a Redan par three near the end of the routing before what could be the best finishing hole of any Macdonald course you'll find. The length of the course isn't much by today's standards, but the greens and overall firmness of the course compensate for it by requiring precision from players rather than brute strength. From a conditioning standpoint, St. Louis CC is fantastic with pure rolling greens and finely manicured fairways. Players will enjoy their walk around the course by being accompanied by a caddie that will tote their bag around the course and guide them through their round; maybe even help them save a stroke or two. While the length prevents it from being on the radar to host major tournaments today, St. Louis Country enjoys a history as the venue for the 1921 and 1960 U.S. Amateur, 1925 and 1972 U.S. Women's Amateur, and 1947 U.S. Open. In the end, St. Louis CC is just fun. It is a challenge without being overbearing, and there is forgiveness on the course without being able to just hit it anywhere. Great architecture and terrain collide here and provide a course you could play everyday and not tire of it.
By the Numbers
Tees
Par
Yardage
Rating
Slope
Black
71
6625
72.6
138
Gold
71
6433
71.9
137
Red
71
6097
70.4
135
Blue
71
5623
68.2
131
White (Women)
71
5432
72.1
128
Green (Women)
71
4625
67.2
121
Family
71
3504
59.9
104
Individual Hole Analysis
Signature Hole: 14th (Dome) Hole – 416 Yard Par 4
Best Par 3: 3rd (Eden) Hole – 213 Yards
Best Par 4: 18th (Oasis) Hole – 412 Yards
Best Par 5: 5th (Punchbowl) Hole – 508 Yards
Birdie Time: 7th (Shorty) Hole – 154 Yard Par 3
Bogey Beware: 4th (St Andrews) Hole – 410 Yard Par 4