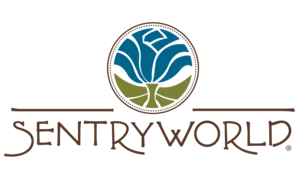 Golf Course Review by: Billy Satterfield
The Takeaway: SentryWorld is an attractive parkland course featured on mostly flat ground with immaculate conditioning that rivals any course in the country. Several bunkers and a handful of water features come into play throughout the routing which give it character. It may not be Whistling Straits or Sand Valley, but SentryWorld is a strong offering with a design that accommodates a wide variety of players and skill levels. Grade B
Quick Facts
Designer: Robert Trent Jones Jr. in 1982 (remodeled by RTJ Jr./Bruce Charlton/Jay Blasi in 2013)
Cost: $59.00 - $130.00 (includes cart; $10 discount if you walk) Click for current rates
Phone Number: (715) 345-1600
Course Website: Official Website - Visit SentryWorld's official website by clicking on the link provided.
Directions: Get here! - 601 N. Michigan Avenue, Stevens Point, WI 54481
Photos: See additional photos of SentryWorld
Accolades: Ranked 11th in Wisconsin on Golf Course Gurus' Best in State list.
What to Expect: SentryWorld is located in the dead center of Wisconsin just under two hours north of Madison in Stevens Point. The course was built in 1982 by Robert Trent Jones Jr. and later remodeled by him in 2014 and was developed by Sentry Insurance as a playground for employees and when hosting visitors. The course is a parkland layout featured on mostly flat ground which makes it easy to walk, or you can choose to ride if you take one of the GPS equipped carts. Water comes into play a handful of times throughout the course with some ponds and a creek creating some strategic elements to consider as well as adding some beauty to the property. Speaking of beauty, SentryWorld is very easy on the eye and is highlighted by the famous "flower hole," aka the par three 16th, which boasts over 30,000 hand planted annuals. The grounds crew doesn't just try to impress you with some fancy foliage, the course is maintained in absolutely immaculate shape with 007 bentgrass greens, bentgrass fairways, and bluegrass rough. In fact, it is easily in the top five best conditioned public courses I've ever encountered; it is that pristine. On the downside, the terrain at SentryWorld lacks drama due to the flatness while the location next to some busy roads can be a distraction when playing the holes on the perimeter of the property. In the end SentryWorld is a good "everyday" course that you'd be happy to play regularly as your home course with appeal to every age and skill level. It offers plenty of challenge, excellent conditioning, and easy access off I-39. The course is located on Golf and Golf Digest magazine's top 100 public courses in America lists and would be better known if it weren't competing for headlines in the best public golf state in the union where Whistling Straits, Erin Hills, Sand Valley, and Lawsonia reign supreme.
By the Numbers
| Tees | Par | Yardage | Rating | Slope |
| --- | --- | --- | --- | --- |
| Black | 72 | 7145 | 74.7 | 139 |
| Black/Blue | 72 | 6958 | 73.5 | 134 |
| Blue | 72 | 6630 | 72.3 | 131 |
| Blue/White | 72 | 6401 | 71.3 | 129 |
| White | 72 | 6110 | 69.8 | 125 |
| White/Gold | 72 | 5887 | 68.9 | 121 |
| Gold | 72 | 5552 | 67.2 | 118 |
| Green (Women) | 72 | 4696 | 67.4 | 116 |
Individual Hole Analysis
Signature Hole: 16th Hole – 176 Yard Par 3
Best Par 3: 3rd Hole – 151 Yards
Best Par 4: 4th Hole – 348 Yards
Best Par 5: 9th Hole – 508 Yards
Birdie Time: 11th Hole – 319 Yard Par 4
Bogey Beware: 5th Hole – 526 Yard Par 5
Recommended Accommodations
Stewart Inn
- The Stewart Inn is a beautifully restored and comfortably furnished 1906 Prairie style mansion. Featuring original chandeliers, sconces, decorative fireplaces and stained glass windows, the Stewart Inn is among the world's most intact examples of George Maher's architecture. Located in Wausau's vibrant downtown river district and within five blocks of all the restaurants, shops and businesses, the Stewart Inn is the premiere lodging destination for guests seeking a luxury boutique hotel with bed and breakfast experience. In addition to gourmet multi-course breakfasts, state-of-the-art technology featuring Wi-Fi and in-room Samsung Galaxy 4 tablet use, luxurious mattresses and fine linens, and complimentary snacks and beverages, Stewart Inn offers a steam shower with every room and a nightly wine and cheese reception. It is unequivocally the place to stay when visiting central Wisconsin or using Wausau as a hub for travelling to the Beaver State's world class golf courses. Contact: 262-599-6213 or stay@stewartinn.com